Folks, we just went for a spin to check out the Black Friday crowds and deals (in the U.S.).
On both the crowd and deal fronts, we'd say we were disappointed (our focus was on electronics).
We checked out Wal-Mart (both outside and inside), Staples (inside and outside), Best Buy (parking lot was 70%-80% full), Circuit City (few cars in the lot) and a huge mall.
Shockingly, the Wal-Mart parking lot was not full around 6:45AM EST. There were not that many people inside too.
On the whole, we didn't see much excitement on shoppers' faces and we'd be surprised if this Black Friday doesn't prove to be a damp squib.
At Staples, we did see a few desis (one Tamil guy we'd met once and a few Gujjus).
The deals were for the most part lousy, whether it's the LCD/Plasma TVs, notebooks, desktops, digital cameras et al.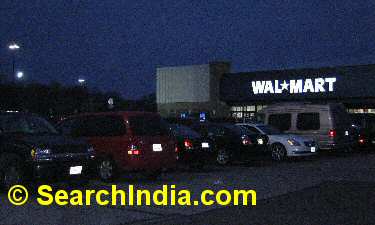 Wal-Mart Parking Lot – Not Full
Lousy Free Breakfast at Sam's
Like typical desis, we couldn't resist the free breakfast offer at Sam's Club.
As we entered, the lady at the entrance made a big deal of the Free Breakfast. We feigned indifference. You see, even if you are cheap you don't want to appear cheap. Right?
And like all things from the Waltons, the free breakfast was disgustingly lousy. The bagel trays were mostly empty, no coffee at first, few orange juice bottles and the African American staff utterly indifferent.
Sam's Club=Cheap skunks. And coming from a cheap desi, that's a real insult.
Of course, Sam's Club hardly had any crowd because they hardly had any deals.
What did we buy?
At Staples, we purchased a 8GB flash drive ($15.99), a 8GB SDHC card ($17.99) for our digital camera and a Norton Internet Security 2009 3PC-edition (free after MIR).
In all, we probably saved about $90-$95.
Nothing else was exciting.
Did you guys go out for Black Friday shopping or were you put off by the lousy deals this year?
We think that American retailers will have to come out with more attractive deals if they want to make money this holiday season. So, watch the fliers in your Sunday newspapers carefully.