Incredible India – Cowardly Indians Send Delhi
Gang Rape Victim to Die in Singapore
We have always said that Indians are the most hypocritical swines on the planet bar none.
Whether it comes to money, God, minorities or women, what Indians say and what Indians do are two totally different things.
Take Rape for instance.
Indian mythology and culture talk of women's exalted status in society. But the reality is a completely different animal.
Throughout much of Indian history, at every stage of a woman's life she's been ill-treated – often made to work like a farm animal, tortured for not bringing enough dowry, abused constantly, subjected to biased treatment compared to her male siblings, occasionaly burnt alive and frequently the target of rape.
The latest report of the Delhi-based National Crime Records Bureau shows India's shameful record when it comes to rape.
In 2007, there were 20,737 reported cases of rape. This works out to a horrific 2.37 rapes every hour.
As you read this piece, some unfortunate girl, woman or child is likely being raped in India.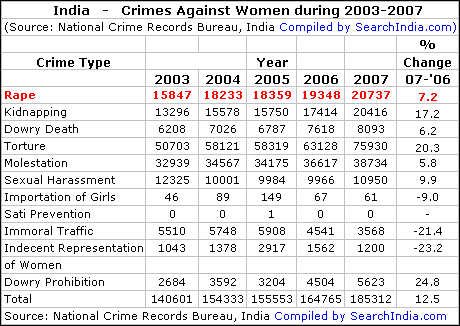 Since 1971, the incidence of rape in India has increased by a whopping 734%.
Yes, that's  734%. No typo here. (Source: National Crime Records Bureau)
Given the social stigma attached to the victims of the crime rather than the perpetrators and the bias of the Indian police and society against women, we believe the real incidence of rape in India could be 20 times as high as the reported figures because many women do not come forward to report their rapes or are shoved aside by the legal system.
So the real rape figures for India could be as high as 400,000.
The majority of rape cases reported were for women in the 18-30 age group (11,984 cases) followed by women in the 30-50 age group (3,530).
Geographical Spread
The central Indian state of Madhya Pradesh is India's rape capital with 3,010 reported rapes last year followed by West Bengal with 2,106 cases.
No, you are not safe in South India too.
The Southern state of Andhra Pradesh had the highest incidence of crimes against women last year – 24,738. Do you think it has anything to do with all that hot Avvakai, Magai and Pandu Mirapakayala Karam (Red Chilli) pickles Andhra men consume in prodigious quantities?
India's capital Delhi, also a major tourist destination, is a favorite haunt for rapists.
Last year, there were 598 reported cases of rape in Delhi. As per the National Crime Records Bureau statistics, Delhi accounted for 29.5% of rape cases, 21.5% of molestation cases and 31.8% of kidnapping and abduction cases among 35 Indian cities.
Courts Unhelpful Over Rape
Indian courts are notoriously slow and media reports suggest they are corrupt too.
According to the National Crime Records Bureau, last year 82% of rape cases under the Indian Penal Code were pending in courts, i.e. stuck in the Indian judicial hellhole.
Remember it can take several years – and sometimes even decades – for cases to vend their way through Indian courts.
Foreigners Raped Too
It's not just Indian women who undergo the trauma of rape.
Rapes and crimes against foreign women are not unknown in major tourist centers like Goa or Delhi.
Some of the foreign women were even murdered after being raped.
As was demonstrated in the rape and murder of 15-year-old British teenager Scarlett Keeling in Goa, Indian police is notoriously corrupt and hopeless inefficient.
The Indian police initially tried to cover up Scarlett Keeling's murder callously stating that she drowned after taking drugs.
It was only after the 15-year-old girl's mother raised hell that a second autopsy was conducted and the truth about the teenager's rape and murder came to light.
A Reuters' story quoted Goa's Tourism Minister Francisco X. Pacheco acknowledging the murder of the young girl:
This is a clear case of murder and it has gone out of proportion because the police tried to cover it up.
Recently, there was the alleged rape of a young German girl in Goa and the hard time her mother's been having in getting justice.
When we were young and growing up in India, we used to occasionally come across reports of women and girls being raped inside police stations. We are not sure if Indian policemen still engage in such heinous practices.
Think and Think Again
So, all ye folks in the West – the next time you think of adding India to your tourist destination list, think twice.
Think a 100-times because India is also one of the world's major rape destinations. Always remember to multiply by 20 the official rape statistics coming from India.
And God Forbid if you were to be raped, attacked or murdered, you and your family will find it almost impossible to get justice in India.
Did we hear anyone say Mera Bharat Mahan?
Related Stories:
Incredible India – Cowardly Indians Send Delhi Gang Rape Victim to Die in Singapore