Why is Internet penetration in India so low?
With 81 million Internet users, India accounts for a mere 6% of the 1.348 billion netizens in the world.
There were only 13.5 million Internet subscribers in India in 2007 (1.15 per 100 inhabitants), according to the Internet Governance Forum. This means each Internet connection is shared by six users.
India's low Internet usage suggests that the net has still not become the pervasive tool it has in countries like the U.S.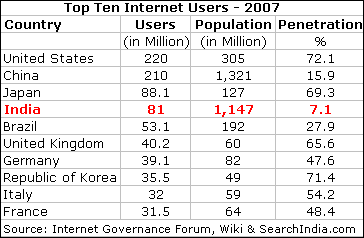 What's holding up Internet penetration/usage in India?
* Is pricing the major culprit?
* Are Indian ISPs ripping off customers?
* Are cybercafes still very popular (we remember reading that many have shut down)?
* Is the Indian government doing anything at all to boost Internet usage?
U.S. Scenario
In the U.S., you can get unlimited dial-up for about $15/month from companies like NetZero. You can get the faster DSL from Verizon for $20. Of course, cable (Comcast) or fibre optic (Verizon) Internet access is faster but also more expensive. They cost around $33 per month under a bundle plan.
Broadband
The Internet access picture in India is bleaker on the broadband front.
According to the Internet Governance Forum, India has just 3 million broadband subscribers, or 0.27 per 100 inhabitants.
The Telecom Regulatory Authority of India puts broadband subscribers in India at 5.05 million (end of October 2008). But the TRAI considers speeds greater than equal to 256Kbps as broadband. At 256Kbps, can you stream a movie or TV show without buffering?
Plus we understand Indian ISPs impose a big cap on usage, which adds to the cost for consumers.
Sitting in the U.S. it's a little difficult to get the whole picture, but what we see suggests that Indian consumers are getting a raw deal from their Internet Service Providers.
All this means a lot of Internet/broadband usage in India must be happening at the workplace.