The Saffron shade is fading in Rajasthan with the ruling BJP receiving a whipping in the state assembly elections while the Congress significantly increased its tally and will most likely form the next government.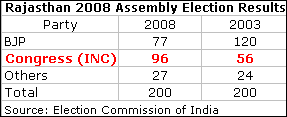 What went wrong? The BJP leadership is blaming its poor performance on the candidate selection.
But what about governance of the state over the last few years. Did that have nothing to do at all with the BJP's defeat?
One would have thought that with Muslim terrorists attacking Mumbai, the party of Ram Bhaktas a.k.a. BJP would have the upper hand at the polls.
Meanwhile, BJP has retained Madhya Pradesh and Chattisgarh while the Congress retained Delhi and wrested Mizoram from the MNF.