Disgusting.
The FBI today arrested Illinois Governor Rod Blagojevich (Democrat) for among other things conspiring to sell or trade President Elect Barack Obama's Senate seat.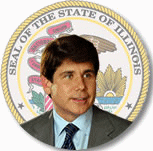 Power for $$?
President-Elect Obama resigned his Senate seat on November 16 after his victory in the presidential elections.
Under Illinois law, the state Governor has the authority to name another person to serve the reminder of the Senate term.
According to the U.S. Department of Justice, a 76-page FBI affidavit alleges that Blagojevich was intercepted on court-authorized wiretaps during the last month conspiring to sell or trade Illinois' U.S. Senate seat vacated by President-elect Barack Obama for financial and other personal benefits for himself and his wife.
The U.S. Attorney for the Northern District of Illinois alleges that at various times, in exchange for the Senate appointment, Blagojevich discussed obtaining:
* A substantial salary for himself at a either a non-profit foundation or an organization affiliated with labor unions;
* Placing his wife on paid corporate boards where he speculated she might garner as much as $150,000 a year;
* Promises of campaign funds, including cash up front; and
*A cabinet post or ambassadorship for himself
Other charges against Blagojevich include threatening to withhold state assistance to the Tribune Company (publishers of the Chicago Tribune, which was critical of the Governor) in connection with the sale of Wrigley Field to induce the firing of Chicago Tribune editorial board members critical of Blagojevich; and to obtain campaign donations in exchange for official actions – both historically and now in a push before a new state ethics law takes effect January 1, 2009.
U.S. Attorney for the Northern District of Illinois Patrick Fitzgerald said:
The breadth of corruption laid out in these charges is staggering. They allege that Blagojevich put a "for sale"  sign on the naming of a United States Senator; involved himself personally in pay-to-play schemes with the urgency of a salesman meeting his annual sales target; and corruptly used his office in an effort to trample editorial voices of criticism. The citizens of Illinois deserve public officials who act solely in the public's interest, without putting a price tag on government appointments, contracts and decisions.
Over the last few years, several prominent lobbyists and U.S. politicians including Congressmen like Randy Cunningham have been arrested and jailed for corruption. Bloody Scumbags.
FBI Special Agent-in-Charge of the Chicago Office Robert Grant said today:
Many, including myself, thought that the recent conviction of a former governor would usher in a new era of honesty and reform in Illinois politics. Clearly, the charges announced today reveal that the office of the Governor has become nothing more than a vehicle for self-enrichment, unrestricted by party affiliation and taking Illinois politics to a new low.
By the way, three Illinois governors have gone to prison since 1973.
Hey, two other Senate seats are falling vacant – Hillary Clinton (NY-D) and Joe Biden (DE-D). Any Bidders?
Corruption, as our late Prime Minister Indira Gandhi once said, is universal.
As always, all those charged with crimes are innocent until proven guilty.