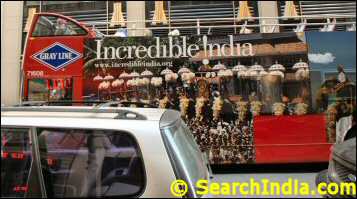 Incredible India Ad on NYC Bus
* A PWD Engineer M.K.Gupta in Uttar Pradesh is brutally beaten up by local politicians for not giving funds for the birthday bash of the state's Maharani and tortured with electric shocks (according to the autopsy report). Yes, his wife is now a widow.
* Bal Thackeray, the leader of a national political party, welcomes the rise of Hindu terrorists. Yes, he's a free man blabbering away to glory.
* Most policemen in Mumbai have never fired a gun in their lives, not even during their initiation training. Yes, 195 were killed and some 327 injured in the recent Mumbai terrorist attack.
* India has the maximum number of chronically hungry people in the world, according to the Food and Agriculture Organization. For the 2003-2005 period, India had 230.5 million undernourished people. That's nearly 31 million more than in the 1995-97 period. Yes, there are folks building billion dollar homes in Mumbai.
* Some 15,000 policemen out of a total of 60,000 cops in the Indian capital Delhi are busy guarding VIPs like politicians, ministers, bureaucrats and judges. (source: DNA). Yes, there's little security for the common man and tourists.
* Nine terrorists who got off the boat near Gateway of India got to work immediately and held Mumbai hostage for 60 hours. Yes, no immigration clearances were required.
* Rape of women has increased 31% between 2003 and 2007 to 20,737. Yes, many women feel unsafe.
* Many Bollywood movies are outright stolen. Yes, the directors/producers deny with a straight face that it's a lift.
* Thousands of Muslims are slaughtered in Gujarat. Yes, Narendra Modi is still Chief Minister of Gujarat.
* Minorities (Muslims & Christians) live in an atmosphere of terror in BJP-ruled states like Gujarat and parts of Karnataka. Yes, the BJP is a respected national party beloved of the Hindu communal elements.
* Protests are held by various clowns in Tamil Nadu a.k.a. Eelam in tacit support of the LTTE. Yes, LTTE leader Prabhakaran still eludes arrest for the murder of former Prime Minister Rajiv Gandhi.
* Several thousands are kidnapped every year in Bihar. Yes, we have a government in Bihar.
*Â  Last year, a chain-snatching suspect in Bhagalpur was tied to a motorbike and dragged around town. Yes, he was only a suspect but not convicted of the alleged crime.
* Bangalore has been reeling from power-cuts for decades. Yes, Bangalore is India's Silicon Valley.
Did we hear anyone say Incredible India?
Did we hear anyone say India has arrived on the world stage?
Ha ha ha.