Controversial Harvard professor Samuel P.Huntington, in our view the world's greatest political scientist after Plato, has died.
To those of you who may never have heard of Samuel Huntington, he was the the author who made the phrase Clash of Civilizations famous.
While Huntington has been in the limelight recently after he wrote his famous essay on the Clash of Civilizations in 1993, our favorite book by this colossus remains his classic work on comparative politics Political Order in Changing Societies (New Haven: Yale University Press, 1968).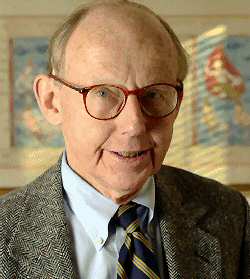 Samuel Huntington – RIP
(Pix: Harvard News Office)
In the opening chapter of that monumental work on comparative politics, Huntington wrote:
The most important political distinction among countries concerns not their form of government but their degree of government. The differences between democracy and dictatorship are less than the differences between those countries whose politics embodies consensus, community, legitimacy, organization, effectiveness, stability, and those countries whose politics is deficient in these qualities. (P.1)

….Men may, of course, have order without liberty, but they cannot have liberty without order. (p.7-8)
Being a book on comparative politics, India figures prominently in Political Order in Changing Societies. Some of the Indians mentioned in the book include M.K. Gandhi, Jawaharlal Nehru, K. Kamaraj, C. Rajagopalachari, Lal Bahadur Sastri and Asoke Mehta.
Huntington also gives much importance in the book, rightly, to strong political institutions:
The existence of political institutions (such as the Presidency or Central Committee) capable of giving substance to public interests distinguishes politically developed societies from undeveloped ones. It also distinguishes moral communities from amoral societies. A government with a low level of institutionalization is not just a weak government; it is also a bad government. The function of government is to govern. A weak government, a government which lacks authority, fails to perform its function and is immoral in the same sense in which a corrupt judge, a cowardly soldier, or an ignorant teacher is immoral. The moral basis of political institutions is rooted in the needs of men in complex societies. (p.28)
Besides comparative politics, Samuel Huntington's research interests included American government, democratization, military politics, strategy, and civil-military relations and political development.
After the 9/11 attack on America, many saw in Huntington's Clash of Civilizations (published in 1993) a prescient harbinger of the future.
The Clash of Civilizations? was first published as an essay in Foreign Affairs in the Summer of 1993.
In the essay, Huntington wrote:
It is my hypothesis that the fundamental source of conflict in this new world will not be primarily ideological or primarily economic. The great divisions among humankind and the dominating source of conflict will be cultural. Nation states will remain the most powerful actors in world affairs, but the principal conflicts of global politics will occur between nations and groups of different civilizations. The clash of civilizations will dominate global politics. The fault lines between civilizations will be the battle lines of the future.
This seminal article by Huntington in Foreign Affairs apparently stirred up more debate in three years than any other article published in the journal since the 1940s.
Later in the expanded version of this essay, published as a book The Clash of Civilizations and the Remaking of World Order in 1996, Huntington wrote:
Wherever one looks along the perimter of Islam, Muslims have problems living peaceably with their neighbors. The question naturally arises as to whether this pattern of late twentieth-century conflict between Muslim and non-Muslim groups is equaly true of relations between groups from other civilizations. In fact, it is not. Muslims make up about one-fifth of the world's population but in the 1990s they have been far more involved in inter-group violence than the people of any other civilization. The evidence is overwhelming. (P.256)
Huntington is not without his critics.
Many including Nobel Laureate Amartya Sen have criticized the Clash of Civilizations piece while Political Order in Changing Societies attracted flak for its emphasis on order.
Samuel Huntington, 81, died on December 24 at Martha's Vineyard, Massachusetts.
India has not produced a political scientist even one-hundredth as good as Samuel Huntington. The only Indian political scientist who has written any stuff worth reading is Rajni Kothari (not sure if he's still alive).
Samuel Huntington – RIP