Looks like our Naxal troglodytes are slow to see the attraction of broadband Internet access.
Yes, our Bengali babus are lagging badly in the adoption of broadband.
Why is broadband penetration low in West Bengal compared to states with lesser population?
Are these luddites forever listening to Rabindra Sangeet or eternally preparing for the dictatorship of the proletariat that they have no time for web surfing.
Maybe.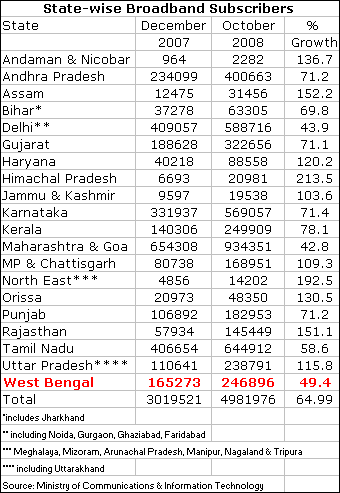 West Bengal not only has low broadband connections but the growth rate has also been low over the last 10 months.
States like Tamil Nadu, Karnataka and Delhi with far lower population than West Bengal have significantly higher broadband subscribers.
West Bengal has a literacy rate of 71.6% and is No-16 in the state-wise literacy ranking. The people have a reputation of being cultured and passionate about learning. And it's not as if the state does not have centers of higher learning. There's the IIT in Kharagpur, Jadhavpur University and other academic institutions. The state also a reputation of being a vibrant hub of intellectual ferment for several decades.
So why is broadband penetration in West Bengal lagging so badly for its population?
(Sure, other Indian states like Bihar have much lower broadband connections. But then who cares about the killing fields of Bihar. If Bihar is not at the bottom of any table, it'd be news.)