Ghajini Collapses at Box Office
Ghajini, the ugly copy of Memento, has turned in a so-so performance at the U.S. box office.
For the five-day Christmas holiday weekend of Dec 24-28, Ghajini managed a total gross of only $1.387 million.
One would have expected Aamir Khan's Ghajini to rake in more moolah given that it released during the holiday season here as well as the immense media hype that accompanied the release.
Here's a look at how Ghajini fared compared to some prominent Bollywood films in the opening weekend at the U.S. box office: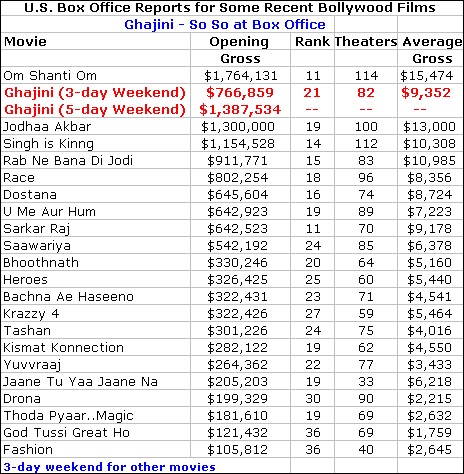 Here's an excerpt from SearchIndia.com's review of Ghajini:
In these hard economic times, if your 2009 New Year Resolution is to cut back on wasteful spending and save money for the rainy days ahead, we suggest you start in the fading days of 2008 by skipping this piece of stolen junk called Ghajini.

Yes, the Hindi Ghajini is the same stolen piece of shit that director and thieving swine A.R.Murugadoss palmed off as his creation in its Tamil predecessor.

Many of the similarities we pointed out in the Tamil version between Ghajini and the Hollywood classic Memento are to be found in the Hindi version as well. We won't refer to the similarities again here but you may see the list of copied scenes here.