by Sonny Chatrath
Chandni Chowk Review – Slit Your Wrists, Akshay
It's not very often that the wife, and I get to get a night out on the town, so we were really thrilled to receive two VIP passes to the advance screening of this much anticipated chuckle a minute spoof from the renowned director Nikhil Advani.
We arrived at the AMC Empire theatre on 42nd St in Manhattan around 6.30PM almost frozen stiff, and tried to rush straight in, only to be pushed out into the freezing cold.
We were told to stand out and cheer Akshay Kumar and Deepika Padukone like cheerleaders from one of those newly formed Indian Cricket Teams. I did not find that humorous, as we are grown people, who try to be dignified, but this little sting robbed me of any dignity I had. Not to mention my bitter half was really bitter. She wanted us to leave right away, as her highness is not used to being stood up.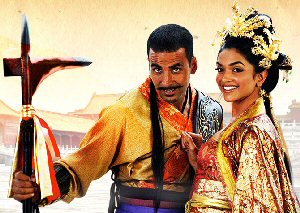 Click on image for video of NYC Premiere
We braved the bitter cold of New York City just to catch a glimpse of the glitterati for a split second.
Deepika Padukone got out of the limo and rushed straight in, as she was wearing a strapless dress (She is brave).
Akshay and Twinkle (his wife) arrived shortly, and mingled with the crowd.
You should have seen some of the grown desi men in moustaches screaming at the top of their lungs Akshay, we love you. I honestly found that quite entertaining, although you won't catch me screaming like that even if they put my favorite Katrina Kaif next to me in a bikini (I would be eating my hat minus the toppings in my heart though).
Everyone was so cold by the time the celebrities left that we all literally pushed our way in past all the dolled up hopeful chicks, who just wanted to catch Akshay's attention.
Little did they realize that he would have his beautiful wife in tow.
Anyways to cut a long story short, we got into the theatre with a complimentary small popcorn, and coke, and jumped at the first available seats in the third row from the top towards the middle so that we could get a clear view of the screen.
The movie started immediately, as we were behind schedule.
Wild Roller Coaster Ride
The movie started off brilliantly with the story of a mythical Chinese warrior Liu Sheng, who died defending his country against the invading tribes.
I must say the the vibrant sights and sounds of China made me want to pack my bags and get on the next plane to that place. That was until they showed the reincarnation of Liu Sheng  in the form of Akshay Kumar.
From the time Akshay entered the film, it was like a wild roller coaster ride.
The film was full of loud meaningless verbal tirades from Akshay Kumar, Mithun Da, and Ranvir Shorey as Chopstick (the confused Indo Chinese cocktail who tells people's fortune).
Where's the Story?
Well, this is yet another bizarre meets stupidity yarn along the lines of Singh is Kinng.
Sure, the film had some really funny moments, that are fast becoming Akshay Kumar, and Ranvir Shorey's trademark ishtyle, but one can't help but notice that for all the money Indian film makers spend on locations, stars, and special effects, they can't manage to get good script writers.
This film, as well as most other Indian films are so dazzling, and full of star power that they can easily put any Hollywood film to shame, but when it comes to a story line or script, they are horribly antiquated.
Like in his last movie Singh is Kinng, Akshay Kumar plays an yokel in this movie too.
In Chandni Chowk to China, Akshay is cast in the role of a cook/vegetable cutter in a Chandni Chowk dhabha, who is forever playing the lottery, praying to Lord Ganesh and showing his hand to astrologers.
Thanks to the machinations of a Chinese fortuneteller, Akshay lands up in a Chinese village where the suffering people believe he's the reincarnation of the long dead Liu Sheng come to help them against a local evil character called Hojo. The movie then takes some weird twists rivaling the winding Great Wall of China before an ende gut, alles gut ending.
It seems, at times, as if scenes were just stuffed into the film to reach the magic number of three hours; and half the theatre was walking out during a song sequence.
There are some glaring inconsistencies throughout the film, but you just have to overlook them. Just to give you an example, a person who was a police officer, who was roaming the streets as a mad man for 20 years, can't just get to be inspector again, and start teaching Kung Fu.
But since I am such a nice guy, I am not going to give the whole story away.
Still, Akshay carries the whole movie on his shoulders and does justice to his role.
Deepika Padukone could be better. Frankly yaar, she did not impress.
Music
The songs are perfect for the under-30s crowd or if you are into remix/pop. Most songs would make excellent tracks for the car or for DJs across the world.
Indiase aaya mera dost was a pretty comical spoof on the old Bombayse aya mera dost.
But I don't see anybody rushing out to buy the CD.
Oh, yeah, the picturization of the songs were handled well.
Verdict
In closing I would like to say that I would prefer a silly movie like this over a very carefully written, and directed Ghajini because the latter was a bit too gloomy for my liking, especially given the state of the economy.
I think people should watch movies that make them forget about their stresses, and worries instead of making them sit at the edge of their seats, but then again that is my opinion.
I hope you enjoy Chandni Chowk to China and not be disappointed by all its inconsistencies. – Sonny Chatrath
Related Stories:
Chandni Chowk Review – Slit Your Wrists, Akshay
Chandni Chowk to China is Garbage, Say Critics
Warner Bros' Double Standards on Piracy