B.Ramalinga Raju, the architect of the mega fraud that has brought India's fourth largest IT services company Satyam Computer to its knees, has been arrested on charges of criminal breach of trust, criminal conspiracy, cheating, falsification of record and forgery.
The arrest is no surprise considering that Raju has confessed to engaging in massive accounting fraud to boost the company's profits.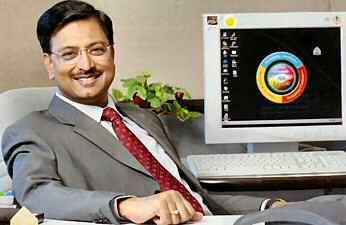 No Suits for me anymore; Just Jail-Stripes
Indian media reports say that Ramalinga Raju surrendered before the police in the South Indian city of Hyderabad and was arrested.
Ramalinga Raju's brother B.Rama Raju (who was Managing Director of Satyam) has also been arrested.
But why did it take 60 hours for the Indian police to arrest Ramalinga Raju considering the crimes he's confessed to? 
Here are some of the crimes that Ramalinga Raju confessed to in his January 7, 2009 letter to the company's board:
* Inflated (non-existent) cash and bank balances of Rs 5,040 crore (as against Rs 5,361 crore reflected in the books) on the balance sheet as of September 30, 2008

* An accrued interest of Rs 376 crore which is non-existent

* An understated liability of Rs 1,230 crore on account of funds arranged by me

* An overstated debtors position of Rs 490 crore (as against Rs 2,651 reflected in the books)

* For the September quarter, Satyam fraudently reported a revenue of Rs 2,700 crore and an operating margin of Rs 649 crore (24% of revenues) as against the actual revenues of Rs 2,112 crore and an actual operating margin of Rs 61 crore (3% of revenues). This has resulted in artificial cash and bank balances going up by Rs 588 crore in Q2 alone.

* Raju acknowledged that the gap in the balance sheet had arisen on account of inflated profits over a period of last several years.
Satyam was until recently hailed as India's fourth largest software exporter with marquee clients like GE, Microsoft, Nestle and Quantas.
Related Stories:
Satyam to Employees – You'll get January Salary
And Now They are Six
Satyam gets 3 New Directors
Satyam Board Kicked Out, Hooray
Ram Mynampati Vows to Stay at Satyam; Kick Him Out
Trading in Satyam Still Halted on NYSE
We are Big Time Crooks, Confesses Satyam
Are Infosys, Wipro & Mindtree Crooks Too?
Satyam Fraud – The Perils of Outsourcing
53,000 Satyam Coolies Up Shit Creek; Massive Layoffs Likely
After the Shit Hits the Fan, Satyam Kisses Employees Ass
SEBI Orders Probe into Satyam
End of the Road for Satyam Computer
Satyam Chairman Ramalinga Raju's Arrest Imminent
Satyam Shares Crash After Massive Fraud Revealed
Satyam Fraud – Is Nasscom Sleeping?
What the Hell is Really Happening at Satyam?
Investors To Satyam Raju – Drop Dead
Satyam Computer Screwed in Forgery Case