Chandni Chowk Collapses – Down 80%
Confirmed – Chandni Chowk a Mega Box Office Disaster 
Folks, God Exists.
Yes, Akshay Kumar's latest must-not-see movie of 2009 Chandni Chowk to China seems to be a dud at the box office in the U.S., going by the boxofficemojo estimates.
It does look like the audience has shown the middle finger to Akshay Kumar, Nikhil Advani and Deepika Padukone. Bravo.
According to estimates, Chandni Chowk to China's opening weekend gross is a pathetic $651,000.
Oh, my god, the average gross is a disgraceful $5,008, lower than Bhoothnath, Krazzy4 and Heroes. What a shame.
And did you say Warner Bros. was distributing this movie…ha ha ha. A lot of good it did.
Here are the Chandni Chowk to China box office estimates for the opening weekend: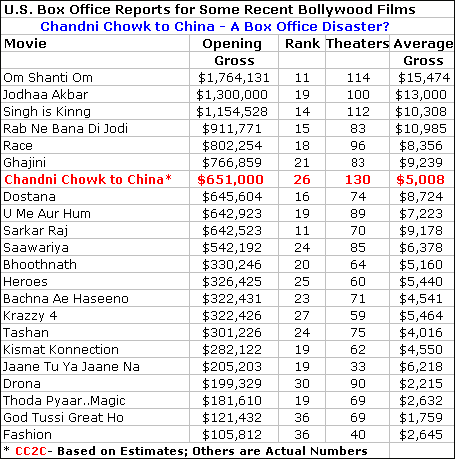 An absolutely shitty movie in every respect, Chandni Chowk to China is most definitely the must-not-see movie of 2009. A mighty big ripoff, if you ask us.
Read the SearchIndia.com review here and a sample of other critics' thoughts on the movie here.
If by chance, you've not seen this trashy movie consider yourself blessed by the Holy Trinity of Ram, Christ and Allah.
Avoid Chandni Chowk to China like the plague.