Chandni Chowk Collapses – Down 80%
Folks, now it's confirmed.
Chandni Chowk to China is a bada box office disaster in the U.S. (On Sunday, we gave you CC2C box office estimates but now we give you actual numbers from boxofficemojo).
In its opening three-day weekend, this pathetic piece of shit Chandni Chowk to China managed to gross only $629,921.
This offensive piece of garbage, which opened in a record 130 theatres in the U.S., had an average gross of $4,846.
No, that was not a typo. It is a pitiful $4,846. Less than Om Shanti Om, Ghajini, Jodhaa Akbar, Race, Dostana, U Me Aur Hum, Sarkar Raj….
Hey, less than even Krazzy 4 and Bhoothnath.
How low can you sink, Akshay?
Here's how Chandni Chowk to China fared compared to other prominent Bollywood movies in the opening weekend at the U.S. box office. The below numbers tell the sad box office story of Chandni Chowk to China: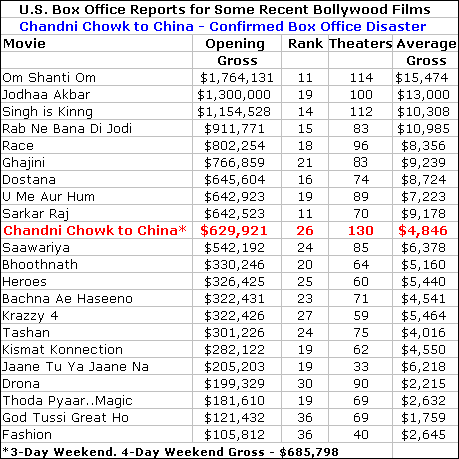 Remember this junk had Warner Bros. backing it, had Akshay Kumar as the hero, had Akshay personally promoting it at premieres in the U.S., had opened in a record 130 theatres here and had released in a total of 40 international markets.
And yet after all this, Chandni Chowk to China grossed a piffling $629,921 in the U.S. Now that qualifies it as a mega disaster
Utter Garbage
Guys and gals (how can we forget you, gals), if you take out your 5-megapixel digital camera, put it in movie mode and shoot aimlessly, you'd be able to turn in a far superior movie compared to this offal Chandni Chowk to China. No kidding.
Serves You Right
Akshay Kumar, you've profited so much from theft.
Your HeyBabyy was an outright theft of Three Men and a Baby. But of course you didn't care.
Drunk on your success, you delivered crap after crap. A few months back, it was Singh is Kinng and now this Chandni Chowk to China nonsense.
Have you no respect at all for your fans? Obviously, not.
Indian Box office Picture
Reports coming out of India also say that Chandni Chowk to China has not met with an enthusiastic reception even in our homeland.
Here's a sample of reports from India on the box office status of Chandni Chowk to China.
Akshay Kumar's much-hyped Chandni Chowk To China has got a big thumbs down from the audience and critics alike. The film has had an average opening. Collections have fallen further during the weekend. With collections on Monday showing a massive slump, not even a miracle can save the film or recover its Rs 50 crore plus cost it seems.
Since yesterday, the film's box-office takings have started declining. This is not what was expected from Hollywood giant Warner Bros big collaboration with Bollywood…

Multiplex owners, who allotted the maximum number of shows to CC2C, are now moaning over their miscalculation.
The year's first major release Chandni Chowk to China has proved to be a disaster at the box office. Audiences hated the film so much, some people even walked out of theatres mid-way.
Akshay Kumar, if you have an iota of decency, you'd fall at the feet of your fans, kiss their feet, wash their feet in your tears, pour the post-wash sanctified water on your head and return the ticket money with compound interest for the sin of putting out a trashy movie like Chandni Chowk to China.
Are there no limits to cheating?
To call Chandni Chowk to China a movie is the biggest swindle of this decade.
One important thing, Akshay. Despite whatever junk Warner Bros may write in their press releases, you are neither the heartthrob of Indian cinema nor the current reigning king of Bollywood.