This instalment of Incredible India focuses on the Indian idee fixe with navels of our women.
For purely titillating reasons, Indian movie-makers and moviegoers have been fixated on the navels of our girls for several decades.
When you can't show the mountains above or the valley below in their god-created pristine form, what else is left but the navel in between.
In countless Bollywood and Kollywood movies, directors have flaunted the navels of our Incredible Indian belles to the lecherous whistles and lascivious sighs of front-benchers and back-benchers, the young and the old, in village tents and city multiplexes.
Much to our immense jealousy, many a hero has buried his face into those delectable crevices of many a heroine or item girl.
Now, some Mahatma, who has more time to waste than even us, has stitched all those Great Indian Navels together and put them up on YouTube.
Click on the image below to see the Navel instalment video of Incredible India: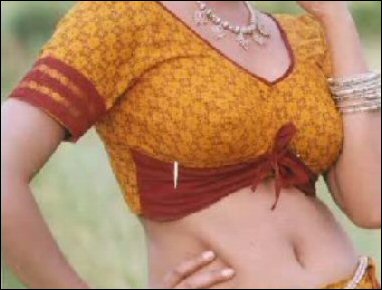 Image: YouTube
Having watched the above video, now tell us who you think has the Best Indian Navel?