BigAdda, the social networking site of Anil Ambani's Reliance ADA group, is faring badly compared to other social networking sites in India.
Losing Ground
Notwithstanding its big ambitions, BigAdda is actually losing ground to rivals like Orkut, Facebook, Bharatstudent.com, hi5 and MySpace.
New research released by web researcher comScore today shows that total unique visitors to BigAdda.com fell 25% from December 2007 to December 2008 even as total unique visitors to all social networking sites in India rose 51% to 19.37 million.
As BigAdda's unique visitors were falling, Google's Orkut, Facebook, hi5, Bharatstudent and MySpace were recording significant increases in unique visitors.
Take a look at the below table to understand what an uphill battle BigAdda faces: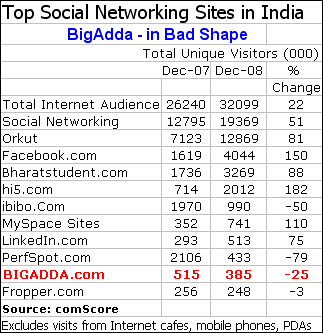 Readers to SearchIndia.com won't be surprised that BigAdda is having a hard time.
As we wrote in May 2007 (around the time BigAdda went live):
No guarantee that BigAdda will gain momentum just because it has the Reliance Entertainment folks backing it. Remember how Pradeep Kar had a tough time with Indya and ITSpace.com despite his track record with MicroLand.
Singapore Ahead
Overall, Indians continue to be a little slow to embrace social networking sites compared to other Asian countries like Singapore, South Korea, Hong Kong and Malaysia.
According to the comScore researchers, 60.3% of India's online population visited a social networking site in December 2008 compared to 74.3% in Singapore and 68% in in South Korea.