Until we read the latest issue of New Yorker (March 2, 2009) a short while ago, we'd never heard of Rudresh Mahanthappa.
Nor of Kadri Gopalnath.
Nor of Vijay Iyer.
Boy, are we happy that we read that New Yorker piece by Gary Giddins titled Passage to India that goes ga-ga over Rudresh Mahanthappa.
Listen, all ye philistines out there – Rudresh is a saxophonist as is Kadri Gopalnath. The difference – Rudresh is an American jazz alto saxophonist while Kadri Gopalnath is an Indian saxophonist with roots in Carnatic music.
As for Vijay Iyer, the guy is an American jazz pianist.
The focus of the New Yorker piece is on Rudresh Mahantappa and his two recent albums Kinsmen and Apti.
The outcome of a collaborative effort between Rudresh and Kadri Gopalnath, Kinsmen is sheer magic, folks. A must-listen.
After listening to Convergence and Ganesha on YouTube and snippets of other pieces from Kinsmen on iTunes, all we can say is that even we, yes, we with our untrained ear for music, were bowled over. Completely.
Schmuck, do we even have to tell you to click on the below image to listen to Convergence and achieve moksha: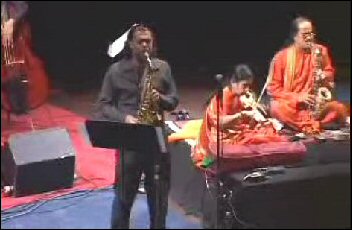 (Image: YouTube)
Not for nothing does the New Yorker's Giddins describe Kinsmen as
a momentous achievement that will be around for a long time to come.
More on Vijay Iyer in a later post.
Feast on Rudresh Mahanthappa and Kadri Gopalnath for the nonce.