One of the defining events of modern India over the last six decades is the decline of the Congress party as a force in Indian politics.
Congress has seen an alarming decline in the total percentage of votes polled and the number of seats won in the Lok Sabha parliamentary elections.
The decline of Congress in Indian politics mirrors the decline of institutional structures and procedures in the Indian political arena and replacement of first generation leaders by a class of venal politicians for whom politics was merely an arena for personal aggrandizement.
The below table compiled from Election Commission of India data shows the extent of Congress' fall over the years.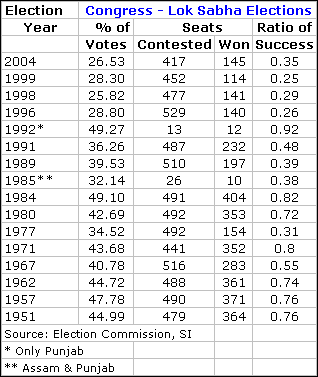 What an irony that the Congress party, once home to leaders of stature like Mahatma Gandhi and Jawaharlal Nehru, now includes the likes of Rahul Gandhi with little achievement to his credit.
The sad corollary of Congress' decline is the rise of communal parties like BJP, dependence on regional parties for the survival of its government at the center and serving as a poor role model for other 'family parties' like DMK.