It's hell today, here in the Northeast.
Heavy snow since Sunday evening has closed schools, delayed flights, shut down roads, caused power outages and created a big mess across the Northeast.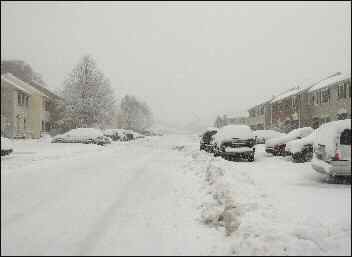 Picture taken today at 10:15 ET (20:45 IST)
Here's an excerpt from the NYT:
Schools were closed from Virginia to Maine, and government offices in New Jersey and Washington, where the White House was now paired with a white lawn, had delayed openings of up to two hours. Philadelphia took the "extraordinary measure" of issuing a Code Blue weather emergency to protect its homeless population, allowing officers to force people off the streets and into shelters.

The storm, a late-winter nebula that formed off the coast of South Carolina over the weekend, shot up the Eastern Seaboard overnight on a track that took it along the I-95 and I-85 corridors. By Monday morning, the massive system stretched from Virginia to eastern Quebec, leaving in its wake sights not often seen in the South: snow-covered trees in Atlanta, slushy streets in Virginia and sledding in Alabama.