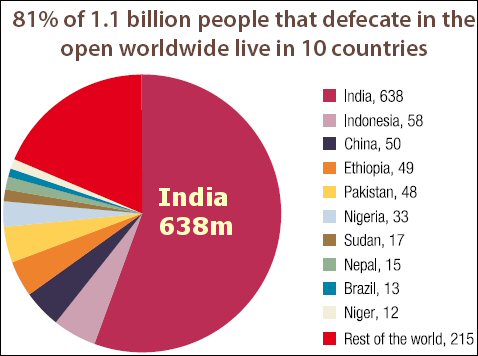 Image Source: WHO, 2010
Mera Bharat Mahan. Incredible India. Shining India.
Wow, nice sounding feel-good words, na?
Folks, as we were desultorily roaming across the gullies and byways of the Internet a few hours back, we stumbled upon a Bloomberg story about a most disturbing crisis that's very open but yet not acknowledged by most Indians.
Nearly 85 years after Mahatma Gandhi wrote in a moment of despair that 'Sanitation is more important than political independence,' India's claim to fame is not its legions of software programmers, dozens of call centers, piles of nuclear bombs or its silly Chandrayan lunar expedition but its peerless status as the Shit-hole of the Planet, in the literal sense.
The Bloomberg story we read earlier tonight talks about a sanitation emergency in India – the problem of open defecation and the problems it brings in its wake.
Chew on these Indian Shitistics
These are some of the most stinking shitistics we've seen on India in a long time:
* Indians leave about 100,000 tons of shit in the open every day, in the fields, on the river banks and in the middle of the biggest cities
* About 665 million Indians shit in public or engage in open defecation (to use a euphemism), that's half the world's 1.2 billion who let go in public
* Each gram of feces contains millions of harmful bacteria and viruses and a thousand parasite cysts
* Over 37% of the total human excreta generated in urban India is unsafely disposed, according to the National Urban Sanitation Policy document prepared by India's Ministry of Urban Development
* According to the 11th Five-Year plan document, of the 200 million dwelling units across India, only 40 million dwelling units have a toilet inside the house. Only 61% households in urban areas and 17% households in rural areas have access to improved sanitation
* 12.04 million urban households do not have access to latrines and defecate in the open
* India's poor sanitation extracts a heavy toll. UNICEF has found that every day 1,000 Indian children, younger than five-years die of diarrhea and other diseases caused by poor sanitation
* Sadly, 50% of Indian schools do not provide separate toilets for boys and girls leading to high dropouts by girls
* The Government of India acknowledges that lack of covered toilets nearby imposes a severe hardship on women and girls and yet does little
* According to the Government of India's shitistics, 10 million cases of diarrhoea, more than 7.2 lakh typhoid cases and 1.5 lakh viral hepatitis cases occur every year mostly due to unclean water supply and poor sanitation
* Poor design of toilets in Maharashtra have led to their use for grain storage
* The ultimate indignity of having to do it in the open
Dystopian Shitty Nightmare
The above shitistics reveal the dystopian nightmare that hundreds of millions of poor Indians live in and still we have all these clowns spending millions of dollars advertising a chimera called Incredible India on New York City buses, in the New Yorker and on CNBC.
India's 11th Five-Year Plan document (2007-2012) blames open defecation primarily on the traditional behavioral pattern and lack of awareness of the people about the associated health hazards.
But we think abject poverty in the rural hinterlands and urban slums is a more significant factor in open defecation and ultimately poor sanitation. Of course, poor allocation of resources and corruption also play a role as they do in most public policies or lack of public policies in India.
Given the sanitation crisis in India, it's futile to tell an Indian – 'Don't talk shit', because most likely feces has already entered into the mouths of most Indians due to poor sanitation.
Here's an excerpt from the must-read Bloomberg story:
In the shadow of its new suburbs, torrid growth and 300-million-plus-strong middle class, India is struggling with a sanitation emergency. From the stream in Devi's village to the nation's holiest river, the Ganges, 75 percent of the country's surface water is contaminated by human and agricultural waste and industrial effluent. Everyone in Indian cities is at risk of consuming human feces, if they're not already, the Ministry of Urban Development concluded in September.
Did we hear anyone say Mera Bharat Mahan?