Hard times ahead for Dell, HP and Lenovo.
Market researcher IDC has put out a report today that PC shipments in the first half will fall by over 8% in the first half of this year.
IDC predicts that PC sales gradually improve to a small positive growth in the fourth quarter but will end the year down 4.5%.
Total PC shipments for 2009 are projected at 282 million units compared to 295.5 million in 2008.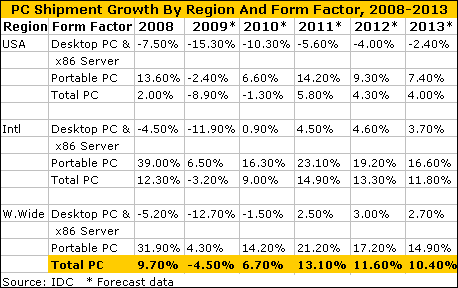 IDC forecasts that emerging markets like Latin America, Central Europe, Middle East and Africa will post double-digit declines in volume over the next three quarters while mature regions will weather the current economic climate somewhat better due to their ability to absorb financial losses.
According to IDC analyst Loren Loverde:
To be sure, the PC market is in for a bumpy ride. Nevertheless, there are a number of reasons why the PC market will not fare dramatically worse in the current environment than it did in the 2001 recession – even if the current economic environment is notably worse. Pricing will become even more aggressive, and there will be further consolidation, but the PC industry will not go the way of the financial or auto industries in this cycle.