We are just back from our neighborhood library having borrowed (or checked out as they say here) John Grisham's new book The Associate.
Like a lot of people with lots of time on their hands, we've probably read all of Grisham's novels (though we'd be hard pressed to recollect the plot of most now except vaguely for Pelican Brief, also made into a movie featuring Julia Roberts).
At the center of Grisham's novels is usually a young lawyer or law student, who's caught up willy-nilly in some deadly crime/corrupt activity.
Yale law student Kyle McAvoy is the protagonist in The Associate.
Two FBI agents are talking to Kyle McAvoy, who's sweating as they bring up an old incident……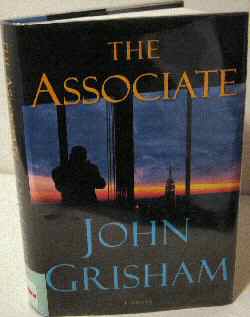 Here's an excerpt from the early pages of the above book:
 For a twenty-five-year-old law student with no criminal record and illegal habits or proclivities, the presence and the attention of a man who gave all indications of being employed by some branch of law enforcement should have caused no concern whatsoever. But it never worked that way with Kyle McAvoy. Street cops and state troopers didn't particularly bother him. They were paid to simply react. But the guys in dark suits, the investigators and agents, the ones trained to dig deep and discover secrets – those types still unnerved him.

….An hour earlier he had been famished. Now his digestive system and his excretory system and his nervous system were on the verge of a meltdown. He was struggling to breathe normally as he desperately tried to appear unfazed. He removed a disposable pen and a note card, and with all the nerve he could summon, he said, "I'd like to see those badges again."
We'll update this post once we finish the book.
Update:
Not worth reading.
There's very little drama or suspense in this book that's anchored on a five-year-old rape incident and theft of some corporate secrets from a law firm.
Neither Kyle McAvoy, nor the blackmailers Bennie et al or the law firm Kyle joins at the behest of the unknown blackmailers following his graduation from Yale come to life in Grisham's latest novel.
Don't waste your time.