Indian-American kid Narendra Tallapragada came in fourth in the just concluded Intel Science Talent Search 2009 competition in the U.S. (Eric Larson of Eugene, Ore., won the first prize, a $100,000 scholarship, for his research project classifying mathematical objects called fusion categories).
Often referred to as the Junior Nobel Prize, the Science Talent Search is America€™s oldest and most prestigious science research competition for high school seniors. Seven former finalists have won the Nobel Prize.
Narendra Pundarik Tallapragada of Burke, Virginia, received a $25,000 scholarship for his project: Determining the Dielectric Function for Crystalline Solids from the "Bottom Up", Using Atomic, Ionic, and Molecular Properties.
Tallapragada's goal is to one day create "mini-computers" that can be used, for instance, to create automatic insulin pumps inside diabetic patients or intelligent clothing that responds to temperature.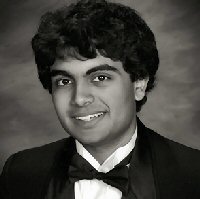 Narendra Tallapragada
(Photo: STS)
Son of Ravi and Jyotsna Tallapragada, 17-year-old Narendra Tallapragada hopes to study electrical engineering at MIT or Harvard.
Last year, an Indian-American girl Shivani Sud won the top prize.
Other desis in the Top 10 this year are:
Eighth Place:  Preya Shah of Setauket (NY) worked on Combating Cancer: Design and Synthesis of Dual-Warhead Tumor-Targeting Drug Conjugates
Ninth Place: Nilesh Truipuraneni of Fresno (CA) worked on A Relativistic Generalization of the Navier-Stokes Equations to Quark-Gluon Plasmas
Preya and Nilesh received a $20,000 scholarship each for their projects.
This year, in all there were eight desis among the 40 finalists.
The other desi contenders among the 40 finalists and their projects were:
* Smitha Ramakrishna – Chandler (AZ)
Analysis of the Chemical and Biological Degradation of Sucralose in Synthetic Wastewater
* Aniruddha Sandeep Deshmukh – Cupertino (CA)
Revitalizing the Coastal Sage Scrub Ecosystem in Response to Cyanide Accumulation from High Intensity Wildfires
* Nitish Lakhanpal – Irvine (CA)
An Investigation into the Folding of Beta Structures in a Class of Pathologically-Relevant Proteins: Computational Prediction of Secondary and Super-Secondary Structure from Primary Amino Acid Sequence
* Aditya Rajagopalan – Glastonbury (CT)
Modeling Synergistic Cellulolytic-Hemicellulolytic Enzyme Complexes for Lignocellulosic Hydrolysis
* Suvai Gunasekaran – Madison (WI)
A New Approach to Biofilm Inhibition: Incorporation and Controlled Release of Synthetic N-Acylated Homoserine Lactone Compounds from Surfaces
Since 1998, Intel has sponsored the competition, which provides a national forum for America's brightest young scientists to present original research to nationally recognized professional scientists.
Related Stories
Eight Indian-Americans Vie for 'Junior Nobel Prize'
Shivani Sud Wins Intel Talent Prize