Our vote goes for Padmasree Warrior, the Chief Technology Officer of Cisco.
Maybe because we think old is gold.
Although a Methuselah-like 48, Padmasree still oozes sex appeal.
With a cute bindi gracing the midpoint of her eyebrows, at the base of her forehead just above the nose bridge, Padmasree looks yummier than a Cold Stone Creamery Cheesecake Fantasy ice cream.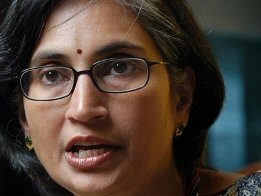 Padmasree Warrior
(Photo: BusinessInsider)
Don't get us Wrong
We have nothing against Sukhinder Singh.
Hey, the Singh babe looks good too, just not yummy enough.
To those living in the boondocks, Sukhinder Singh Cassidy is president of Google Asia-Pacific and Latin America.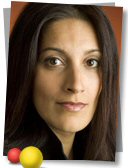 Sukhinder Singh
(Photo: Google)
We have feasted our eyes for the better part of an hour on both these desi women. Time well spent, we should add. 😉
Now say what you will, we hold that Padma daadi looks cuter than Sukhinder beti. That's our final answer.
Newsmakers
Both Padmasree and Sukhinder are in the news today.
Padmasree's company Cisco is launching blade servers today that will compete with its erstwhile partner HP's offerings.
Padmasree told the Wall Street Journal:
We're going to compete with H-P. I don't want to sugarcoat that. There is bound to be change in the landscape of who you compete with and who you partner with.
The Journal quotes Padmasree that Cisco's blade servers are different because they combine server and network, eliminating the need for integration. Apparently, Cisco's blade servers also automate some functions that are currently separate. By the way, Cisco has an alliance with Tata Consultancy Services to peddle its wares to businesses.
Bravo Padma (doesn't Padma sound so much more nicer and sexier than Padmasree, which sounds like that stupid Padma Shri award they hand out to incompetent people in India).Â
As for Sukhinder, this young lady is tipped to replace Google executive Tim Armstrong, who recently vamoosed to AOL.
Armstrong looked after Google's North American and Latin American sales and used to work with some of the largest advertisers on search, YouTube and TV ads (brokered by Google).
Should Sukhinder land Armstrong's job, it'd be interesting to watch how the desi babe handles this tough assignment in a difficult economic environment.
Related Stories:
Sukhinder "Babe" Singh Leaves Google; Off to Accel
Padmasree Warrior Deserts Sinking Motorola for Cisco