India's Tata Group, yeah the same bozos who went and purchased the Jaguar and Land Rover, now plan to bring their cheap Nano car to American shores.
Nano, or the People's Car, which launched in India on Monday, is scheduled to hit the U.S. in 2011 or 2012, according to the Financial Times.
The American auto industry is already on life support and the Nano is the last thing Detroit needs. Michigan will soon start looking like Africa or India.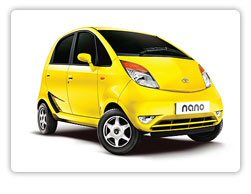 Cheapo Nano:
Coming to America
(Photo: Tata Motors)
Here's an excerpt from the FT story on the Nano launch:
Ratan Tata, head of the Tata group, said that tough times in the world's largest car market had convinced the group to start designing a version of the Nano for possible export to the US as early as 2011 or 2012.

Mr Tata said he had once viewed the US, with its exacting consumers and obsession with large cars, as unsuitable for the diminutive Nano. However, he said: "In this economic situation, we see perhaps there is a place [for the Nano in the US]."
Prices for the Nano start at Rs 100,000 in India ($1,974) with deliveries expected to start in July 2009.
Equipped with a 2-cylinder engine, the Nano has a maximum speed of 65 miles per hour.
Nano is currently being manufactured at Tata's Pantnagar plant in Uttarakhand in limited numbers. The new plant at Sanand (in Gujarat state) will be ready in 2010 and have an annual capacity of 350,000 cars.
Related Stories:
Does $2,500 Tata Nano Doom GM & Ford in India?
God, We Hope Mamta Screws Tata Nano
Tata's $2.3b Folly – Buying Jaguar, Land Rover
Tatas are Nuts to Bid for Fading Jaguar & Land Rover