So you think the whackos and idiots are all lined up only on the side of Hinduism or Islam.
Oh, no.
There are plenty of idiots and whackos among the Christians too. Foremost among these Christian idiots is the current Pope himself.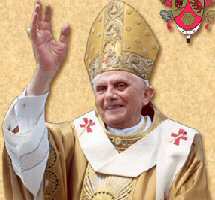 Pope Benedict XVI
Photo: Vatican
The other day, this Islam-baiting Pope Benedict XVI said on his first pontifical trip to Africa, the AIDS-ravaged continent:
[AIDS] cannot be overcome through the distribution of condoms, which even aggravates the problems.
Condoms aggravate AIDS?
Who made this idiot the Pope, we want to know?
Even Christ can't save a moron who says condoms aggravate AIDS.
Health ministers in France and Germany (the Pope's home country) have already condemned the idiot's stance on condoms.
Related Stories:
Indian MPs Think Clothes Spread AIDS. And You Thought Dan Quayle was a Dodo!