(Thanks to satya for raising this issue)
You can't open Indian newspapers these days without reading about an Indian father raping his daughter.
* First, it was the Mumbai businessman Kishore Chauhan, who was arrested a few weeks back for raping his two young daughters. The older girl (now 21) was raped for nine years while her younger sister's nightmare is said to have started recently. The younger girl is 17-years-old now. Besides the father, the family tantrik (astrologer) was also raping the older girl with the mother's consent.
* As if one paternal rape incident were not bad enough, then came reports that an Amritsar BJP leader Ashok Taneja had been arrested following a complaint from his 20-year-old daughter that her father had been raping her for eight years. Yes, eight years.
* In the latest incident, Radheshyam Shiv of Hingna (near Nagpur) has been arrested for allegedly raping his eldest daughter, who is 15-years-old. The girl has accused her father of raping her for four years.
Update – 1
* One more Indian dad has allegedly raped his young daughter. According to this DNA story, the latest incident happened in Falipta village, near Phillaur in North India.
Update – 2
* Yet another Indian dad has been nabbed for allegedly raping his daughter. This time the helpless girl was four-years-old. And it happened in India's capital Delhi.
Update – 3
* One more case of rape of a young girl, allegedly by the 11-year-old victim's father, has come to light in Mumbai (Thanks, Satya).
More Studies Needed
Has this kind of child abuse been going on in India for a long time or is this incestuous rape practice a recent phenomenon in a society going through rapid flux?
Are Indian dads developing a new hobby – Raping their daughters?
These are questions that can only be addressed by more media reports, greater sensitivity of the police toward complaints from girls/women and extensive academic studies.
Child abuse in India within the family setting most definitely calls out for greater research by Indian medical researchers and sociologists.
Low Status
In our view, crimes against girls/women have their roots in the low social status of Indian women in the Hindu hierarchy.
Indian society (Hindu society) has always held members of the female sex, be they young girls or older women, in low esteem. This is of course not a new phenomenon but present through the centuries.
Manu Smriti, one of the earliest written works on Hinduism and the inspiration for other later religious works, treats women as vastly inferior to men.
Here are a few verses from Manu Smriti that cast women in a poor light:
Ch 2

213. It is the nature of women to seduce men in this (world); for that reason the wise are never unguarded in (the company of) females.

214. For women are able to lead astray in (this) world not only a fool, but even a learned man, and (to make) him a slave of desire and anger.

215. One should not sit in a lonely place with one's mother, sister, or daughter; for the senses are powerful, and master even a learned man.

Ch 5

154. Though destitute of virtue, or seeking pleasure (elsewhere), or devoid of good qualities, (yet) a husband must be constantly worshipped as a god by a faithful wife.

155. No sacrifice, no vow, no fast must be performed by women apart (from their husbands); if a wife obeys her husband, she will for that (reason alone) be exalted in heaven.

Ch 9

2. Day and night woman must be kept in dependence by the males (of) their (families), and, if they attach themselves to sensual enjoyments, they must be kept under one's control.

3. Her father protects (her) in childhood, her husband protects (her) in youth, and her sons protect (her) in old age; a woman is never fit for independence.

5. Women must particularly be guarded against evil inclinations, however trifling (they may appear); for, if they are not guarded, they will bring sorrow on two families.
Even the Mughal empire and the authority of Muslim kings for more than two centuries and the British rule for nearly two centuries failed to improve the status of women in Indian society.
It's this entrenched low status of women in Indian culture that makes them easy fodder for rape, burning and violent assault, both within the family setting and outside.
Birth of a son in Indian society is considered a happy event while the birth of a girl is often greeted with sorrow. This is most true of Hindu families. No surprise then that female foeticide and infanticide in India run very high. The movie Matrubhoomi mentions at the end that 35 million girls are missing in India over the last 100 years because of gender discrimination.
Just Economic Liberalization
Economic emancipation of women, who work outside the home in increasingly large numbers these days in the urban milieu at call centers, retail stores and software development centers, has not been accompanied by significant social emancipation.
The picture of Indian women can only be worse in the rural hinterlands.
Look at the below table to see the growing incidence of crimes against women in India in recent years: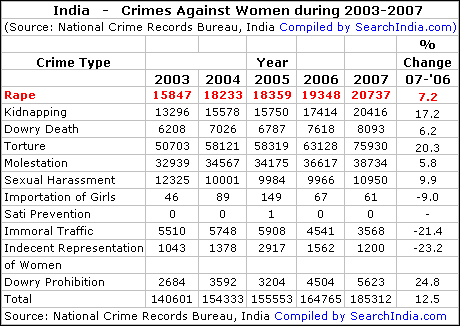 Mera Bharat Mahan.