Back in the ol' days, the Chettiars of Tamil Nadu had a not-so-nice reputation as usurious moneylenders.
The popular perception was that members of this caste were modern-day Shylocks.
Maybe. Maybe not.
But we'll forgive the Chettiars any and all vices for the gift of their sui generis Chettinad cuisine to humankind.
Among the many legendary Chettinad curries, one of our favorites is Poondu Kozhambu.
If we could have our way, we'd have Poondu Kozhambu for breakfast, Poondu Kozhambu for lunch, Poondu Kozhambu for dinner and Poondu Kozhambu for dessert.
Alas, life's not always a vessel of Poondu Kozhambu. So we thank our stars and consider ourselves blessed when we are favored with this famed Chettinad curry.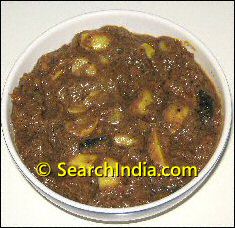 Divine Blessing
Such is the popularity of the venerable Poondu Kozhambu that these days it's even turning up on the menus of Indian restaurants in New Jersey and New York City. Perhaps on the menus of Indian restaurants in the American hinterlands too.
We prepared Poondu Kozhambu yesterday. And yes, we are still riding the high.
Bliss was it to smell the arousing aroma of Poondu Kozhambu, but to taste this elixir was very heaven (Thank you, Wordsworth).
Here's our recipe for Poondu Kozhambu:
Ingredients:
1) One cup peeled Poondu or four garlic clusters with 10 medium size pods in each cluster
2) One medium size onion finely chopped
3) Two medium size tomatoes finely chopped
4) 10-15 curry leaves
5) One and half spoons urad dal or black gram dal
6) One spoon mustard seeds
7) One spoon turmeric powder
8 ) One spoon red chilli powder
9) One spoon hing or asafoetida powder
10) One spoon tamarind concentrate
11) One spoon jaggery or sugar
12) Four spoons of cooking oil
13) Four spoons of coriander seeds
14) Two spoons of cumin seeds
15) One spoon of Khus Khus or poppy seeds
16) One spoon of black pepper seeds
17) Four dry red chillies
18) One spoon of grated ginger
19) Two spoons of salt or as needed for your taste
20) 90 oz water
21) One spoon ghee
Method of preparation
Heat a medium size vessel with a tight lid on medium flame for a few seconds. Add cooking oil and then urad dal, mustard seeds and curry leaves. After the urad dal turns golden brown and the mustard seeds start sputtering, add the finely chopped onion. Mix thoroughly after adding salt and close the vessel with the lid and cook on medium flame for 8-10 minutes. Then add chopped tomatoes, grated ginger and cook for another 8-10 minutes on medium flame until the onion and tomatoes turn into a nice paste.
Dry fry coriander, cumin, black pepper, poppy seeds and red chilli and grind it into a fine powder in coffee grinder or dry grinder and keep it aside.
Once the chopped onions and tomatoes are cooked well, add turmeric, hing and red chilli powder and mix thoroughly. Then add the peeled garlic, water and cook it on medium flame for six minutes. Add tamarind concentrate, coriander spice mix powder and continue cooking the garlic on medium flame for another 15 minutes or until garlic becomes soft.
Once the garlic becomes soft add jaggery and ghee and mix thoroughly and cook for another three minutes and switch off the stove. Serves 4-6, depending on the appetite of diners.
Enjoy the tasty spicy Poondu Kozhambu with chapathi or ven pongal or even plain basmati rice.
We have tried all three combinations and, boy oh boy, each time it was sheer nirvana.
NB 1: You can fry the coriander and other spice ingredients in a spoon of oil and grind it to a fine paste in a blender.
NB 2: You can add a spoon of rice flour or bengal gram flour to get a smoother gravy.
Related Posts:
Arusuvai Chettinad Review – Satan's Minions at Work
Karaikudi Chettinad NJ Review – Kaatu Koodhi Chettinad; Plain Awful, Disgusting, Sick Food
Anjappar Chettinad USA – Awful Service, Lousy Food