Google's Asia-Pacific and Latin America head Sukhinder Singh Cassidy has left the company and dropped anchor at VC firm Accel Partners, where she will be CEO-In-Residence.
<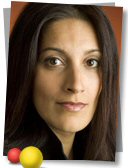 Sukhinder was tipped to replace Google executive Tim Armstrong, who recently vamoosed to AOL, but media reports suggest she didn't get the job.
As CEO-In-Residence at Accel, Sukhinder will evaluate new venture and growth equity opportunities in partnership with Accel besides working with companies in Accel's digital media and advertising portfolio.
Related Stories:
Who's Sexier – Padmasree Warrior or Sukhinder Singh