The bozos at Sun have at last managed to find someone to put them out of their misery after the smart folks at IBM bailed out a few weeks back.
Database giant Oracle is buying Sun for $5.6 billion (after accounting for Sun's debt and cash).
We think Oracle overpaid by $5.6 billion. The deal is expected to close this summer.
Folks, do you remember what happened when Oracle CEO Larry Ellison tried his hand at the Network Computer hardware device in the late 1990s. The NC sucker was a dud.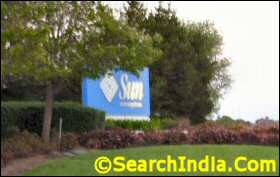 History will repeat itself. Oracle does not have the experience of selling the big hardware boxes. At least, not in a long while. And certainly not in an age when cloud computing is the mantra on every CIO's lips.
As recently as 2003, Ellison was telling the world it would be a bad idea to buy Sun.
So, what's Ellison's excuse now for plonking down $5.6 billion on a bad idea:
The acquisition of Sun transforms the IT industry, combining best-in-class enterprise software and mission-critical computing systems. Oracle will be the only company that can engineer an integrated system – applications to disk – where all the pieces fit and work together so customers do not have to do it themselves. Our customers benefit as their systems integration costs go down while system performance, reliability and security go up.
Hooey. What is Ellison smoking. Whatever it is, we'd like some of that weed too.
Seriously, come on who'd want to buy the Sun server junk. Think we're joking? Look at Sun's server marketshare. Pitiful. 
Hey, what do you think will happen to the MySQL database that Sun acquired 15 months ago.
In any case, another few thousand Sun employees will most likely be roadkill soon. Don't shed any tears for them because going by Sun's dismal performance of the last few years, those employees were not worth much anyway.
Since the dot com bust, the clueless dodos at Sun (co-founded by Vinod Khosla in 1982) have been tottering their way to losses and more losses and significant erosion of shareholder value.