Whoever said America is the Land of Opportunities is wrong. Dead wrong.
Folks, America is the Land of Coupons.
The dominant motif of this land is a discount coupon. No more, and certainly no less.
But even we – yes, cynical we, who think we've seen it all – were surprised at what we found in our Sunday newspaper a few minutes back: A coupon insert for an 'Arousal Gel for Her.' For the schmucks among our readers, that means a sexual stimulating cream. Comprende.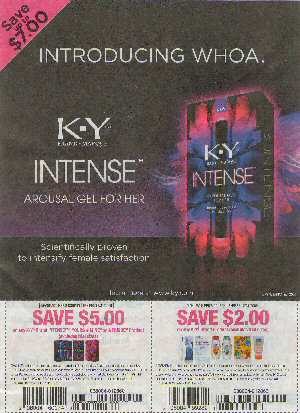 All ye lecherous, lascivious, drooling, aroused and not-so-aroused desis, now before you ejaculate (a verb meaning: to utter suddenly and vehemently) that the titillating print in the stimulating coupon image above is too small to read or provide any spurts of relief, here's what the coupon promises:
KY
Brand*Marque
Intense
Arousal Gel For Her
That's not all, folks.
The Arousal Gel coupon further goes on to promise that it's:
Scientifically proven to intensify female satisfaction
Whoa. Hallelujah. Jai Sri Ram. Sat Sri Akal. Inshallah. Buddham Sharanam Gacchami.
Thank God for such 'intense' scientific research!
We're going to Rite Aid, right now. Or may be Happy Harry's is the place for such happy moments! (Rite Aid and Happy Harry's are leading pharmaceutical store chains in the U.S.)
We haven't tried this KY Arousal Gel but presumably it's something that you rub gently into the p***y of your girlfriend, wife or if she's in a mood to let you, even your favorite plump desi randi or hooker. 😉
Or maybe, we're completely wrong and the gel's meant to be daubed liberally on your schlong. And your babe gets 'intense satis-coition' through the back and forth, friction-less movement of the gel-smeared piston as it explores the underbrush of the virgin valley and travels far into territory, hopefully, where no man's ever been before.
Is that how the whole thing works? Damn, for once we are confounded.
Note: Arousal Gel-experienced veterans may accumulate punya by elucidating the mechanics of how this miracle, stimulating 'gel' works for the benefit of other less-aroused SI dilettantes including, of course, yours 'unaroused' truly. Please, no crude language. 😉
We must of course record our protest here over this discrimination against the not-so-fair sex. Why is it that other than the Spanish Fly we haven't heard of any arousal potions or gravity-defying gels for men?
Men of the world, cock your pistols. You have nothing to lose but your gunpowder.
BTW, here are some of the other coupons we found in the Sunday newspaper today (No, lechers. The rest are the non-Arousal kind unless of course you are a dirty desi who gets aroused by women's underwear):
* Depend Underwear for Women ($2 off)
* Pedigree Dog Food
* L'Oreal beauty cream
* Claussen pickles
* Sergeant's Gold Dog Flea and Tick removal
* Lindt chocolates
* Applebee's steak sauce
* Uncle Ben's Ready Rice
* Oscar Mayer hot dogs
* Green's Ice Cream
* Depend Underwear for men
* PetMeds pet medications
* Scotch Brite scrub sponge
* Viactiv vitamin tablets
* Pledge dog and cat hair remover
* Quaker Granola Bars
* Pizza Hut lunch buffet
* and lots and lots more
Back in the ol' days when we were hormone-overflowing, strapping young adults, like most Indians we constantly used to fantasize about massages. Wonder, if there are any coupons for 'sandwich massages.'
Now fellas, let's get back to our Sunday coupons one more time and check carefully.
Hey, if you don't hear from us for a while or if there's a delay in responding to your comments, it just means we're off to Philly to grab a 'sandwich.'
Who needs a Philly Steak when you can get a Philly Sandwich. 😉