Update:
The Congress-dominated ruling United Progresive Alliance has won a convincing victory in the 2009 Lok Sabha elections dealing a severe blow to the BJP's National Democratic Alliance.
The Congress-led UPA has romped home in 262 constituencies compared to the 160 seats the BJP-led NDA took home.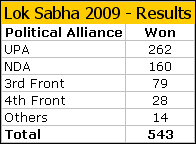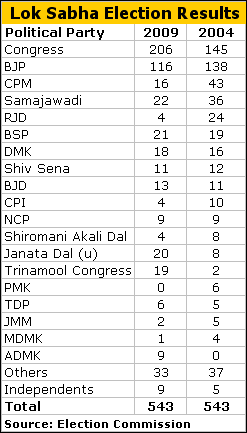 ———————–
Counting of votes for the recently concluded Lok Sabha (Lower House of India's Parliament) elections in India will start in a short while.
Indian media reports suggest that the ruling United Progressive Alliance will emerge on top.
But the Indian electorate has a way of confounding the media pundits and pollsters.
Elections have also been held to the state Legislative Assemblies of Andhra Pradesh, Orissa and Sikkim.
Related Stories:
Andhra Pradesh Assembly Election Results
Bhaiya, Aaramse Maar Meri Gaand
Dynasty Politics – Indian Style