In the interest of the longevity of this blog, our own longevity on this planet and the longevity of your own entertainment, we suddenly decided a short while ago to jump on the Red Wine bandwagon.

As all but the schmucks know by now, Red Wine is considered to be good for the heart (don't ask us if this is really true or just a devious ploy on the part of the vinters to boost sales).
So, we made haste to the neighborhood Gujju liquor store and like a true desi asked our khem-cho Patel bhai for the Red Wine on sale (you know, cheapest stuff).
At first, Patel worker, cousin of the Patel owner, directed us to this Red Wine and that Red Wine before his fingers finally rested on the Jacob's Creek Shiraz Cabernet Vintage 2005 ($9.99).
Why the Australian Jacob's Creek Shiraz Cabernet Vintage 2005 we have no clue.
Maybe, we looked like suckers because we subsequently found the same Red Wine cheaper elsewhere on the net. Man, these Gujjus make the Sindhis look like generous Karnas.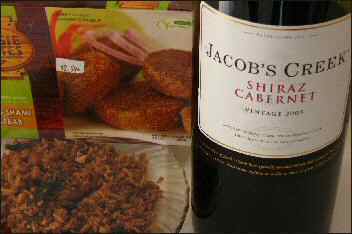 Perhaps, not accustomed to cheapo desis walking into his liquor store our Patel bhai was more interested in talking to us than in selling to to us. First, he asked us whether we lived in the neighborhood.
Upon being answered in the affirmative, our late 20-ish, early 30-ish Patel then proceeded to query us in a conspiratorial tone whether we eat Chicken, Lamb et al.
What the f**k is wrong with these bloodthirsty kinsmen of Narendra Modi in Gandhi's land!
We declared in the gruffest tone we could muster that nothing that swims, flies or crawls was safe from the long reach of our predatory appetite.
The young Patel lad then hinted to us that he and four of his friends regularly engage in meaty revelry (sounds most un-Gandhian for a Gujju, na?) and would welcome the addition of another desi.
Wary of our Gujju's intentions but out of politeness' sake, we quickly exchanged phone numbers and rushed home.
Yeah, rushed home to the Puliyodharai (a.k.a Pulihora in Andhra Pradesh and Puliyogre in Karnataka), Veggie Shami Kebab with lime juice draped minced onions on the side and the $9.99 Australian Cabernet Jacob's Creek Shiraz Cabernet Vintage 2005 in the brown bag in our hand.
While yours truly is no stranger to wine, this was the first time our wine and Puliyodharai shared a table.
Oh boy, they hit it off fast and soon became fast friends.
Such thick friends that barely a millisecond passed before they followed each other for their eventual rendevouz in the cavernous black hole of our mouth.
We wouldn't describe the Jacob's Creek Shiraz Cabernet Vintage 2005 as sweet but light and smooth with a slight hint of a peppery flavor.
Before the Puliyodharai vanished from our plate, our Shiraz vanished from our goblet. And vice versa.
We filled the goblet upto the brim again. Did we say, again and again?
Intent on proving that variety is indeed the spice of life, we bid adieu to the Puliyodharai and alternated a sip of the wine with a bite into our $2.99 Veggie Shami Kebab (from Veggie Delites and marketed by DFI USA Inc, Plainsboro, NJ) siiting smugly amidst diced onions glistening with lime juice.
To tell you a secret, these American onions just don't have the spirit like our desi Pyaas (onion).
Anyway, by now we were Mahesh Yoging a.k.a. levitating.
Truth be said, we are still trying to prove that Mahesh Yogi ranks higher than Isaac Newton in the pantheon of Physics.
Heck, we are no believers in any of those charlatans that go by different appellations like Krishna, Jesus or Allah.
But after two or three or four glases of wine (who's counting), four or five kebabs, too many onion slices to keep track of and a plate or plates of spicy Puliyodharai, we were ready to pay obeisance even to the busty Kollywood Goddess Namitha, on the 36D-altar (??) of whose shrine legions of Tamil youths make daily priapic Salaams.
Say what you will but only such a Azhagiya Tamil Magal could put together a delightful trifecta of Red Wine, Puliyodharai and Kebabs for our enjoyment:
Nee Marilyn Monroe…
One Day Mattum Girl Friend Aga Variya….
Saturday Night Party-ku Pogalam Variya
Varen. Varen. Varen.

or is it
Varan. Varan. Varan.