Broadband Internet access continues to surge in the U.S. even as the recession is forcing consumers to drop their pricey cable and satellite television services.
Home broadband adoption in the U.S. rose to 63% of adult Americans as of April 2009 from 55% in May 2008, according to a new report put out by the Pew Research Center's Internet & American Life Project.
According to the U.S. Census Bureau, there are about 217.8 million adults in the U.S.
So a 63% penetration rate would make it about 137.21 million adults in the U.S. with broadband at home.
(Given their higher income and education levels, we estimate the broadband Internet penetration rate for desi adults in the U.S. to be around 80%-85%.)
The Pew study found that the greatest growth in broadband adoption in the past year was among seniors, low-income Americans, high school graduates, older baby boomers and rural americans who previously had below average usage rates.
But Blacks (African Americans) experienced the second consecutive year of below average broadband adoption growth. In 2009, 46% of African Americans had broadband at home, compared with 43% in 2008 and 40% in 2007.
Here are some of the other highlights of the Pew study:
* The average monthly bill for broadband service in April 2009 was $39, an increase from $34.50 in May 2008 (we pay about $43 per month for our broadband connection and our download speed averages about 15Mbps although it falls down to as low as 6Mbps in the late evenings).
* In 2009, 34% of home broadband users said they subscribed to a service that gave them faster access speeds, an increase from 29% in 2008
* Only 7% of Americans are dial-up internet users at home, a figure that is half the level of two years ago
Dismal Indian Picture
The broadband picture continues to remain depressing in India, a country with 1.2 billion people.
Here take a look at the below table: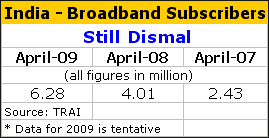 Even if you assume each Indian broadband subscriber's connection supports four adults, the numbers are still woefully low.
We don't know if the quality of broadband service has improved in India.
A few years back, there were plenty of complaints on the online forums about all the providers and the caps. Hopefully, the quality of broadband service is better there now but knowing India we remain more than a little skeptical.