Apple is tooting the horn that it's sold one million units of its new iPhone 3GS through Sunday, June 21.
The new mobile phone, which debuted on Friday, June 19 is the successor to the iPhone 3G which came out in July last year (the older 3G model sold one million units too in its first weekend July 11-13, 2008).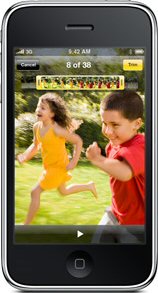 iPhone 3GS
iPhone 3GS costs $199 for the 16GB version and $299 for the 32GB model and also requires customers to ink a two-year contract with Apple's exclusive carrier partner AT&T paying a minimum of $72 a month (without texting).