Worldwide PC shipments fell 5% in the second quarter but Dell's PC shipments declined by a whopping 17%.
According to the folks at market researcher Gartner, worldwide PC shipments in the second quarter of 2009 was 68.149 million units compared to 71.741 million in the same quarter of last year.
Although in retreat, the PC market performed better than Gartner's prediction last month of a 9.8% decline.
Boosted by sales of its low-cost PCs, Acer shipments grew 34% year-over-year to 9.196 million units. Acer tied (almost) with Dell for the second spot in the global PC business.
HP took the top spot with 13.371 million unit, up 2.8% year-over-year.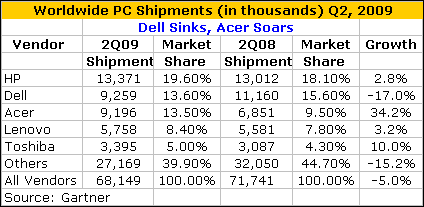 Gartner analyst Mikako Kitagawa said:
In the first quarter of 2009, inventory re-stocking played a major role in shipment growth, but this was less of a factor in the second quarter. Though the market was still in decline, the better than expected results can be interpreted as a small sign of a PC market recovery in terms of shipment volumes in some regions. PC shipments in Asia/Pacific and the U.S. were better than our expectation, while shipments in the Europe, Middle East and Africa (EMEA) region indicated on-ongoing weakness.
Related Stories:
PC Shipments Hit; Dell Screwed, HP and Acer Grow