As we were dining at Rangoli in Chantilly (Northern Virginia) the other day, we were eerily reminded of what our favorite essayist Macaulay wrote in his piece on the Prussian king Frederic the Great.
The food at Frederic's eccentric father Frederic William's place, Macaulay wrote, was
so bad that even hunger loathed it.
Odds are Frederic William's kitchen was a gazillion times better than Rangoli, a Chantilly kuppa-thotti (dumpster-dive) that's lazily trying to morph into an Indian restaurant.
Bunch of Weirdos
Folks, there are three main varieties of weirdos in the U.S.
You have the harmless obsessive-compulsive kind tugging at their door locks.
Next, there are the trannies with their silicone-babies slutting oops strutting down Walnut St in Philadelphia on a late Friday afternoon. Again, harmless except in the mutilation they inflict on their bodies.
Finally, there are the really harmful freaks like Kumar Iyer who inflict horrendous torture over hapless victims like us unfortunate enough to step into their fiefdom.
Tell you what, these Iyer monsters deserve to be locked up in a Supermax dungeon with no chance ever of seeing daylight again.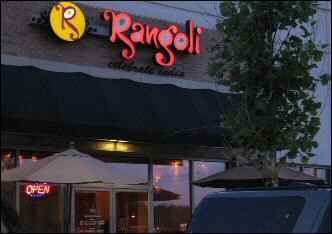 Now, now, be patient, children.
We do realize that you want to know more about this Iyer character. As the smart ones amongst you have already guessed, Iyer is none other than the owner of the Rangoli gulag and, to make matters worse, a hardcore recidivist.
Notwithstanding what the ignorati may say, Rangoli is not an Indian restaurant. At least, not in the real, authentic cuisine sense.
Among the repulsive Indian restaurants we've dined in over several years here in the U.S, this pathetic piece of shit easily ranks among the worst of the worst.
Commonplace Failures
From the freezing cold Green Chutney to the bland, cold Coconut Chutney to the over-salted potato filling inside the Dosa to the hard Medhu Vada to the flavorless Dal Makhani to the high-on-turmeric Kadi Pakora to the low-on-ghee Rava Kesari to the scowling waiter, Rangoli is relentless in its hideous, Mengelesque torture on our palates with a series of travesties mislabeled as Indian food.
All of the above items are hackneyed, commonplace Indian food items. If an Indian restaurant can't get such basic items right, WTF is it capable of, we'd like to know.
Iyer, answer now or forever hold your tongue.
The onion-carrot-drumstick Sambar that accompanied the hard Medhu Vada had little to no flavor.
Paneer Makhani was a sour disaster that we wouldn't wish on our Pakistani enemies.
Since all the salt had gone into the potato filling, obviously there was little left for the mixed vegetable curry.
Non-Vegetarian Catastrophe
Of Rangoli's Lamb Vindaloo and Chicken Curry, we must fall back, as ever, on the bard – Murder, most foul, as the Ghost cries out in Hamlet.
Rangoli's raison d'etre seems to be to make it to the Guiness Book with the most underspiced Vindaloo in the six continents that have large-scale human habitation (perhaps only in Antarctica is the Vindaloo even more underspiced keeping the penguins in mind).
As for the watery, flavorless, spiceless meat abomination before us, if you dare call that offal Chicken Curry then, by God, our name surely is Nayanthara!
Desserts
Besides the low-on-ghee Rava Kesari, we went in for Fruit Jalebi (fried pineapple, banana and apple pieces served with Ice Cream), touted as a Rangoli speciality.
Anything labeled Rangoli speciality should immediately have rung warning bells. Alas, age is catching up with us in our autumn years and we are no longer as alert and sprightly as in our spring years.
Gosh, if there was anything special about this freak-o-rama fried dessert it eluded us. Fortunately, the schmucks in Rangoli's kitchen couldn't do much damage to the Ice Cream.
Back in the South Indian state of Tamil Nadu, when something goes horribly wrong for no fault of ours we tend to sometimes yell out  in angry frustration – en thappu da, na ennae indha palayae serupalla adichukkunum (my fault and I must take this old shoe and hit myself with it). Such was our tormented state of mind by this time.
Why? Because there will always be charlatans in this world peddling copper as gold and Abhishek Bachchan as Marlon Brando, we felt that we ought to have exercised greater caution before stepping into the cesspool that's Rangoli.
But then how do you find out whether a restaurant serves decent fare or exists merely for the sole purpose of ripping you off without visiting it. In our view, reviews on public sites are not much help because they are susceptible to manipulation by vested interests.
Other than offering ourselves as sacrificial lambs on Rangoli's altar of cruelty for the cause of the common good, we really had no chance of getting the true story of Rangoli save visiting it (since it wasn't our fault, we'll lay that old shoe aside).
Like its crappy food, service at Rangoli was mostly of the disservice kind.
After being handed our menus by the young Oriental girl, we had to wait for what seemed like forever to order our food. When we told the young girl we were ready to order, she wouldn't take our order and said someone else would come by.
Our scowling and in-a-desperate rush waiter, who came by eventually, didn't endear himself to us. By the way, our golden rule for those working in the hospitality business: if you can't smile, find some other job.
A few minutes after we'd placed our order a desi girl came around and asked if we were ready to place our orders. Go figure.
Clueless.
That's Rangoli, for you. Clueless in the food department and clueless in the service department (stop gathering near the cash register and chatting endlessly).
As we finished our meal, one of the other waiters looked at the plentiful leftovers on our plates and asked whether we did not relish the food.
Echoing Macaulay, we were tempted to respond that even hunger loathes this kinda garbage but being the meek, docile kind we just smiled and quietly drove off into the night.