via iPhone:
Sitting at Jose's Border Cafe (Tex-Mex cuisine).
It's 1:40 PM ET and the place is fairly crowded.
People are still eating out a lot notwithstanding what the analysts would have you believe.
Free WiFi, cool.
We like the Margaritas (not allowed today) 🙁 and the Vegetable Jambalaya here.
Nice salsa & yummy tangy sauce with Yucatan Plaintain.
Update: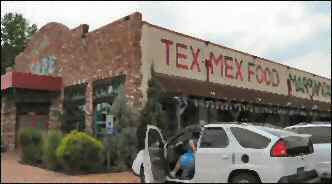 Border Cafe – Decent Place
We've been going to Border Cafe for over eight years and have rarely been disappointed.
The food is decent, portions large, prices reasonable and the service pleasing.
Our waiter asked us if we wanted water with ice, something Indian restaurants never do although desis seldom drink water with ice cubes. They didn't charge us for extra helpings of salsa and the tangy sauce that came with the Yucatan Plaintain.
All of the food tasted fresh and landed hot on our table, not the lukewarm junk the surly desi waiters often plonk down on your table at Indian restaurants.
By the way, Border Cafe has outposts in New Jersey, Delaware and Massachusetts.
Nice change from our recent visits to crappy Indian restaurants like Rangoli and Angeethi.