After reading the gripping crime thriller The Girl with the Dragon Tattoo, we can't get enough of Swedish writer Stieg Larsson.
So we tried to pick up Larsson's second book in the trilogy – The Girl Who Played With Fire – from our local library.
Since we were way down in the reservation list, we did the next best thing – drove down to our nearby Walden store and purchased the book ($15.57 after a 40%-off Borders' coupon).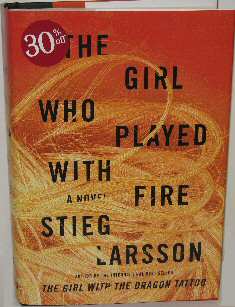 Be warned, folks. This book is really long (503 pages).
Like the earlier book, this one too is a crime thriller.
But the action is more fast-paced here.  And the cast of characters is familiar.
Yes, we do meet our old friends, the asocial Lisbeth Salander and the journalist Blomkvist once again.
Only this time, Salander becomes the center of the story because of a horrific triple murder.
We've already read 389 pages and hope to complete the book today.
You can bet we'll update this post in a few hours.
Update:
Folks, this volume is as good as the first book. And that's no mean feat.
Just as Larsson wove a fine tale in his first novel centered around the disappearance of a 16-year-old girl, this time too the author has a tight, plot with sex trafficking in Sweden as its central theme.
Of course, where there's sex trafficking there's money, exploitation, brutal violence and murder. And that's what we encounter in this gripping novel.
Although the cast of characters in The Girl Who Played With Fire is large, Larsson endows even the lesser ones with enough flesh and blood to make them stand out.
The novel may also be considered an indictment of modern Sweden where sex trafficking from Estonia and other Eastern European countries continues with impunity and more often than not is swept under the carpet despite the rape, beating, murder and immense suffering of the young girls (often as young as 16).
For those who have come late to SI, we must tell you it's one of the tragedies of life that the author of these spellbinding novels died in 2005 before any of his books were published.
We can't wait to read the final volume The Air Castle that Blew Up that's due to be published in October 2009.