No, folks.
It's not Samsung, Sony, Sharp, LG or Panasonic.
It's Vizio.
Vizio has maintained the top dog status in the second quarter too, going by the preliminary numbers from market researcher iSuppli.
According to iSuppli principal analyst Riddhi Patel:
Vizio continues to benefit from its combination of full-featured, value sets with its high-volume retail channels. The company seems to have found the right balance between features and price that appeals to many consumers .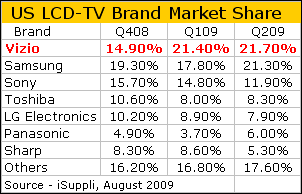 Vizio claims over 300% Full HD 1080p year-over-year growth and 101% quarter-over-quarter growth in 55″ HDTVs.
Is Vizio big in India?
Back when we used to live in India, it was all Onida, Videocon, Keltron, Uptron et al. We guess many of these companies have fallen by the wayside and don't even exist anymore.
Who are the big TV players in India?
Have LCD and plasma TVs made significant inroads in the Indian market or do tube TVs still rule the roost? Here, tube TVs are dead as a dodo.