Boy, when it comes to religion the nut cases sure are all over the place.
Prophet Muhammad's hair at the Hazratbal mosque in Kashmir, the imprint of Rama's feet in a Rameswaram temple or the bizarre case of the missing foreskin belonging to Jesus in a small Italian village.
Yes, every single one of them unadulterated nonsense in our not-so-humble opinion.
Our interest in the book An Irreverent Curiosity by David Farley was piqued by a short piece in the New York Times a couple of weeks ago.
We immediately reserved the book at our local library. And guess what, we managed to get our hands on the book today.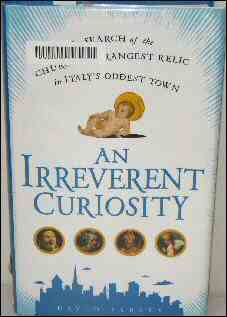 The book's unusual subject is the disappearance in 1983 of Jesus' foreskin from the priest Don Dario Magnoni's abode in Calcata, about 30 miles from Rome.
Describing Jesus' foreskin as one of the most popular relics in Christendom author David Farley, a Catholic himself, highlights its importance to popes, saints, key players in the Reformation and to several writers.
After reading a few pages from this book on the missing Holy Foreskin, we foresee a fun time ahead of us.
We'll definitely update this post after finishing the book.