To all the Indian schmucks who failed to make it to the IITs and graduated from Manonmaniam Sundaranar University, Deen Bandhu Chhotu Ram University of Science & Technology, Periyar Maniammai University, Sant Gadge Baba Amravati University et al, we say take heart.
All is not lost, there's still hope even for y'all imbeciles. 😉
Ever heard of Mangalore University? No, right.
Well, Mangalore University graduate Rajeev Suri was today named the new CEO of Nokia Siemens Networks effective October 1.
Rajeev, who holds a Bachelor's degree in electronics and telecommunications, currently leads the Services business of Nokia Siemens Networks out of New Delhi.
The 42-year-old executive joined Nokia in 1995.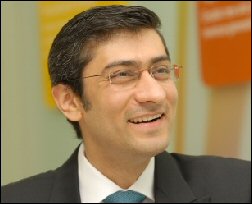 Rajeev Suri
At Nokia Siemens, Rajeev's prior assignments included leading the Asia-Pacific region, overseeing teams for key customers like Hutchison and managing products such as the early cellular transmission portfolio of Nokia.
Rajeev succeeds Simon Beresford-Wylie who is leaving to pursue other opportunities.
Before joining Nokia, Rajeev worked with ICL in India and RPG Group in corporate business development for new ventures and strategic planning. His resume also lists a stint at a large conglomerate in West Africa where he headed their corporate commercial and international imports division.
Rajeev will move from his current base at New Delhi to Nokia Siemens Networks' headquarters in Espoo, Finland.