Go away, now.
We're in a private meeting with an old acquaintance.
With whom, you ask?
Now children, ask yourself what day is it today.
Look at your calendar. September 15, right?
So, who else would we be in a private meeting with?
With Professor Robert Langdon, of course.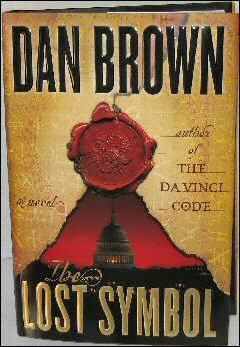 Like millions of readers worldwide, zombie-like we dutifully trooped over to the nearest bookstore and got our copy of popular author Dan Brown's new book The Lost Symbol ($17.27 at Sam's Club) this morning.
The New York Times reports that the 509-page book is flying off shelves.
No surprise here, considering Brown's previous book The Da Vinci Code sold 81 million copies, was translated into 41 languages and also made into a movie featuring Hollywood star Tom Hanks.
Reviewers who managed to lay their hands on The Lost Symbol earlier than yours truly are already giddy about Brown's latest thriller:
* The new book clicks – New York Times
* [L]ike the experience on any roller coaster — thrilling, entertaining and then it's over – Washington Post
* Brown mostly manages to keep the pages turning – Entertainment Weekly
Well, whaddya expect.
For Christ's sake, we're talking of the Robert Langdon, Professor of Symbology at Harvard University.
The only man who can make sense of all those esoteric ancient symbols and odd characters, those that would stump lesser intellects.
Yes, we're talking of centuries-old symbols and characters that still have an echo in the contemporary world.
This time, the setting is Washington.
Of course, there's a secretive organization in this book too. Here, it's the Freemasons.
Now will y'all please leave us alone for the next 12 hours or so until we return from our wild ride with Prof. Langdon.