The Pierre Hotel, a major NYC landmark, has reopened recently after a $100 million renovation by its Indian owners, Taj Hotels Resorts & Palaces.
Located near Central Park at 5th Avenue and 61 St, the Pierre offers 189 redesigned residential-style guest rooms, including 49 suites.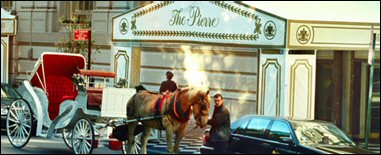 Pierre, New York City
(Pix: Taj Hotels web site)

Since we have more time than we know what to do with, we played around with booking a Grand 1-Bdrm Suite at the Pierre for September 24 for just one night.
Folks, the rack rate shown us was $13,772.30 (no typo here) for one night.
Cheap, na?
Wonder if that is the Presidential Tata Suite (contains handcrafted artworks by artisans from Paramparik Karigar)?
Or was it the less regal Rajput Suite (bed-frame hand-finished with centuries-old Zardosi embroidery)?