Fasten your seat-belts and sit tight, folks.
You are in for one heckuva ride.
Capitalism: A Love Story, numero uno documentary film-maker Michael Moore's excoriation of capitalism, the uninhibited mammon-worshipping ideology that dictates we must devour our fellow humans, starts in theaters across the U.S. tomorrow.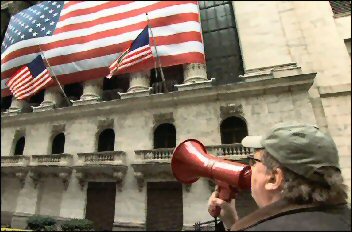 Moore's past documentaries have touched on different sectors of capitalism.
For instance, Moore's Sicko took on the healthcare mafia. In Fahrenheit 9/11, Moore attacked the corporate media for being cheerleaders to the attack on Iraq, which was based on non-existent weapons of mass destruction.
But this time Moore mounts a full-fledged frontal assault on capitalism itself.
In Capitalism, Moore takes on Wall Street and other corporate behemoths that have inflicted untold misery on millions of Americans through their nasty practices.
We have thoroughly enjoyed Moore's past documentaries and we'll be extremely surprised if we were not to enjoy his latest work.
By the way, Capitalism currently has a 73% rating on RT.
Tomorrow can't come soon enough for us.