Jai ho, Karuppiah.
Oh boy, our Karuppiahs a.k.a Tamils are all over the place. No kidding.
Indian-American Venkatraman Ramakrishnan has won the 2009 Nobel Prize in Chemistry for his work on mapping the ribosomes at the atomic level.
Born in 1952 in the temple town of Chidambaram in Tamil Nadu, India, Venkatraman got a Ph.D. in Physics in 1976 from Ohio University following a B.Sc from Baroda University in Gujarat.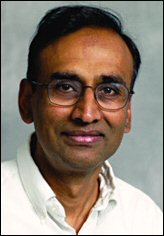 Venkatraman Ramakrishnan
(Pix: Nobel Foundation)
Venkatraman, who is currently working as Senior Scientist and Group Leader at Structural Studies Division, MRC Laboratory of Molecular Biology in Cambridge, UK, shares the 2009 Nobel Prize in Chemistry with Thomas A. Steitz of Yale and Ada E. Yonath and Weizmann Institute of Science, Rehovot, Israel.
Here's what Venkatraman Ramakrishnan had to say today upon receiving the news about the prestigious honor:
I have to say that I am deeply indebted to all of the brilliant associates, students and post docs who worked in my lab as science is a highly collaborative enterprise….The MRC Laboratory of Molecular Biology and the University of Utah supported this work and the collegiate atmosphere there made it all possible. The idea of supporting long term basic research like that at LMB does lead to breakthroughs, the ribosome is already starting to show its medical importance.
Tamil Pride
This is the third time a Tamil has won the Nobel Prize.
C.V.Raman was the first Tamil to win the Nobel (1930), becoming the first Asian and first non-White to get any Nobel Prize in the sciences (Source: Wiki).
Some five decades later, Raman's nephew Subrahmanyam Chandrasekhar won the Nobel in physics (1983).
Venkatraman Ramakrishnan's Contact Info:
Structural Studies Division, MRC Laboratory of Molecular Biology
Cambridge, CB2 0QH
United Kingdom.
Wonder, who's next in line for the Nobel.
Watch this space.