Obama is a Shameless Hussy; Accepts Nobel
U.S. President Barack Obama has been awarded the 2009 Nobel Peace Prize leaving us baffled and irritated.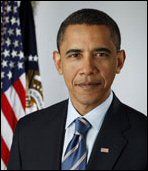 Barack Obama

Announcing the decision earlier today, the Norwegian Nobel Committee highlighted Obama's extraordinary efforts to strengthen international diplomacy and cooperation between peoples and special importance to Obama's vision of and work for a world without nuclear weapons.
But Why
While we do like our President, we are puzzled by this award because Obama has few concrete achievements to his record other than being the first black to become the President of the United States.
Both in the domestic and international arena, Obama is still groping his way toward solutions for vexing problems.
If mere efforts are the yardstick for bestowing high accolades like the Nobel, then every Clinton, Bush and Ford deserve this honor.
It's also timely for us to remember that the Nobel Committee's decision making is extremely weird when it comes to the Peace Prize.
For instance, Mahatma Gandhi never got the Nobel Peace prize despite being more worthy of it than anyone else in the 20th century.
Obama is the third sitting U.S. President to win the Nobel Peace Prize after Theodore Roosevelt (1906) and Woodrow Wilson (1919).
On the domestic front, Obama faces tremendous resistance from the crackpots a.k.a. Republicans.
We hope the Nobel Peace Prize strengthens Obama's hands as he tries to usher in reform like healthcare for the 75 million uninsured and inadequately insured Americans.
Related Stories:
Obama is a Shameless Hussy; Accepts Nobel
Barack Obama is Here; Bush Nightmare Ends
Barack Obama – Inaugural Address