Our President Barack Obama disappointed us all mightily today.
At a morning press conference in the White House Rose Garden, President Obama said he'd accept the 2009 Nobel Peace Prize.
In his remarks, Obama justified his acceptance on the ground that the Nobel Prize is sometimes a means to give momentum to a set of causes.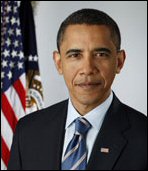 Disappointed us all
Here's what Obama said in his statement to reporters:
To be honest, I do not feel that I deserve to be in the company of so many of the transformative figures who have been honored by this prize.
Correct, Obama. You are nowhere in the league of the great leaders.
Obama also did not have the cojones to take questions from the press corps. Pussy.
Just as there's little doubt that Obama is a welcome change in the White House after the eight years of misrule by the Republican idiot George W.Bush, there's also little doubt that Obama has few achievements to his credit to merit the Nobel.
As many have pointed out, the Nobel is usually given to a person with a rich track record, not to an arriviste.
Obama has been in office for less than a year. Other than changing the tone of discussion, there's been little concrete action so far that has significantly changed the lives of many for the better.
We are dismayed beyond belief.
Shame on you, Obama.
Related Stories:
Obama gets Nobel Peace Prize. Why?
Barack Obama is Here; Bush Nightmare Ends
Barack Obama – Inaugural Address