Note to All American Workers:
All ye spineless, beaten down rats. Pay heed.
While all you cretinous morons were busy cheering at the Nascar races, attending stupid tea parties, viewing American Idol and watching that modern-day Caliban Tom DeLay make an ass of itself on Dancing With the Stars, your politician SOBs and corporate mothafuckas sold you out to the Coolies in India and the Yellow Monkeys of China.
Look at your sorry plight now.
The official unemployment figure in the U.S. is currently pegged at 9.8% (although the real unemployment rate is 16% if you take into account those who have stopped looking for jobs out of frustration and the part-time workers).

As your numbers swell the ranks of the unemployed, dispossessed and foreclosed Americans, weep, weep that businesses and employers in India are stomping on your face and gleefully ramping up their hiring.
Here's a sample of Indian companies that have stolen your best-paying jobs.
Take note, you jackasses they are just a fraction, a small fraction of the several hundred thousand Coolies who now sit in air-conditioned cubicles while you lambs have been tossed to the wolves.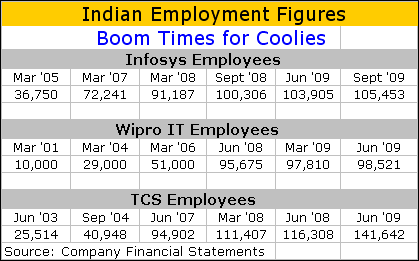 Now, multiply the above tables several-fold.
That's likely the number of well-paying jobs the Coolies have stolen from you.
And where do these Indian Coolie shops get the majority of their revenues?
From American corporations, of course.
Don't be surprised if many of these scumbag U.S. corporations are bailed out by you, the effete, emasculated American tax-payer.
Oh, keep a napkin handy to wipe your copious tears before you pore over the below sample of top Indian companies that get their business from American corporations but hire mostly Coolies: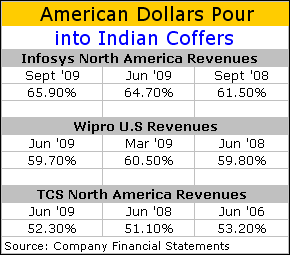 Folks, bear in mind that the above tables are just a sample.
Just a tiny microcosm of your nightmare.
It's not just your skilled software jobs that have vanished from America.
Your credit card call center, customer service, tech support, patent and trademark filing, tax preparation, copy-editing, pharma research, radiology, tutoring and more jobs have gone east while you dunces were asleep.
As you struggle to pay your bills and look in vain for a safe haven from the arctic winter storm sweeping through your lives, the Coolies linger over their Kesar Pista Burfis and Barista Cappuccinos in marble floored malls in Hyderabad, Chennai, Bangalore and Mumbai.
Picture all this prosperity happening at your expense:
* More malls are coming up in India (Just a generation or two ago, these Coolies didn't have enough money to buy a pound of rice at the corner grocery store).
* More multiplexes are being built in India (Just a generation or two ago, these Coolies didn't have enough money to buy a Gandhi-class ticket i.e a front-row seat).
* More Coolies are buying cars in India (Just a generation or two ago, these Coolies didn't have enough money to buy a bicycle).
* More Coolies are now talking haute couture (Just a generation or two ago, these Coolies didn't have enough money to buy cloth to cover their cojones and their women went bare-breasted).
* More Coolies are going to engineering school while you struggle to pass high school and get into big-time debt to attend college (Just a generation or two ago, these Coolies' forbears were illiterate, who couldn't read or write because their parents didn't have money to buy their spawns a notebook and a pencil).
* More Coolies are going on vacations while you enter bankruptcy (Just a generation or two ago, the Coolies didn't have enough money to buy a few logs of wood for their eternal vacation at the graveyard).
Think We are Joking?
Take a look at Infosys, an Indian software and BPO bellwether.
Infosys continues to add employees while laid-off Americans increasingly live off scraps from local soup kitchens.
Infosys CEO Kris Gopalakrishnan boasted to Wall Street analysts the other day:
We continue to add employees, compared to last quarter, there is a net increase in employees this quarter….We have given a compensation increase for our employees….We are giving an average 8% increase in India and 2% outside India.
When was the last time your American sweat-shop gave you a rise?
Infosys is crowing that it's added three more Fortune 500 clients in the latest quarter, taking its Fortune 500 client-base to 112.
We say the majority of the 112 companies are U.S.-based and sold you out.
In an interview with CNBC India, Gopalakrishnan bragged:
We're confident about the future….But we're definitely confident. And that's the reason we've increased the hiring from 18,000 to 20,000. We're hiring a lot of laterals. We're continuing to hire sales force. We're giving the salary increase. So definitely there is confidence in the business.
American dickheads, are you even vaguely confident about your future?
Of course, not.
At the current rate, you'll soon have no future. Just a nostalgic past.
It's not just the Indian Coolies who are sucking your blood.
A billion yellow monkeys from China also have their fangs deep into your neck, schmucks.
Next time, some c*cksucking economist waves the banner of free trade or your corrupt SOB Senator sings the virtues of free trade, remember it's a dirge playing at your funeral.
American dolts, rise up and protest this outsourcing of your best jobs to the Coolies and Yellow Monkeys.
Free Trade is not Your Salvation.
Au contraire, it's Your Death Sentence.
Call your local Congressman and Senator and ask him to impose a heavy tax on American firms outsourcing your livelihood to these Indian and Chinese companies.
Wake up, knuckleheads – Stop the Coolies from feasting on your flesh.