That troglodyte Osama bin Laden killed 2,993 Americans in the 9/11 attack on our country eight years back in a one-time massacre.
But America's doctors, insurance companies, hospitals and pharmaceutical firms murder 45,000 Americans every year by denying them affordable healthcare.
Who's the bigger villain, you tell us?
Noxious Fumes
Folks, the gas chambers are spewing out their horrific fumes continually.
Only, the new age Auschwitz gas chambers are in the United States of America, not in Nazi Germany.
This is the holocaust that the Republican scumbags and a bunch of dirty, traitorous Democrats pretend is not happening.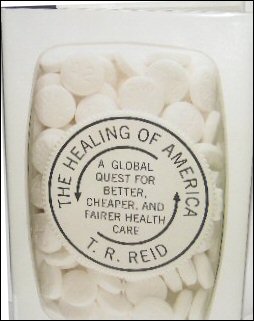 An Indian Beginning
We have ceased to be surprised that all interesting things in life have an Indian beginning, Indian end or at least a strong Indian connection.
So with this book The Healing of America by T.R. Reid, a correspondent for the Washington Post newspaper.
The book starts off with the author's visit to Arya Vaidya Chikitsalayam in Tamil Nadu.
Hey, these are the opening lines of Chapter 1 of the book:
Mrs. Rama came sweeping into my hospital room with the haughty grandeur of a Brahmin empress, wearing a salmon pink sari and leading a retinue of assistants, interpreters and equipment bearers….as she set up her equipment – on a painted wooden board, she carefully arranged a collection of shells, rocks, and statuettes of Hindu Gods – Mrs. Rama told me that she was connected to the clinic's Department of Yajnopathy, an ancient Indian specialty that roughly equates to astrology. (p.5)
The book is the account of the author's travels to many countries in pursuit of a solution to fix America's comatose healthcare system.
As he puts it:
The thesis of this book is that we can bring about fundamental change by borrowing ideas from foreign models of health care. (p.11)
Reid doesn't seem pleased that although the U.S. leads the world in healthcare spending, it ranks 37th in quality and fairness of national health care systems, behind Domininica and Costa Rica.
We have read one chapter and have 12 more to go.
You may expect us to update this post after we complete reading the book.