20% of Avatar Work Still Incomplete
The mailman brought us our latest issue of the New Yorker (Oct 26, 2009) yesterday.
And what do we find?
A huge, 13-page piece on James 'Titanic' Cameron and his upcoming 3D/2D movie Avatar, the director's first movie in 12 years.
In production for over four years, the $230 million Avatar is scheduled to hit the screens on December 18.
Since it's Cameron, expectations are sky-high with Avatar.
After all, at $1.8 billion Titanic is the highest grossing movie ever and Cameron's older Terminator movies are the stuff of legend.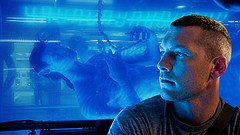 Set on distant Pandora, 'a moon in the Alpha Centauri star system,' Avatar is a science fiction love story that'll be released in both 3D and 2D.
For all the hype, 3D has still not lived up to its promise and mostly been relegated to animations for kids or horror movies. The three or four 3D films we've watched have certainly not wowed us.
With Avatar and in the skilled hands of the maestro Jim Cameron, 3D could make the leap to the mainstream via the scifi love story.
Defending his decision to adopt 3D, Cameron told the New Yorker:
It gives you more of a sense of participation, involvement, and immersion. You feel like you're bearing witness, and that makes the journey feel more real.
You can be sure we'll be lining up for tickets on December 18.
What?
Oh, you want to know if Avatar has an Indian connection.
Of course, it does. Is there anything in life that doesn't have an Indian connection.
Besides the name and the Vishnu-like blue color of its hero, L.A. native Dileep Rao has a role in the movie (as Dr.Max Patel).
See the trailer of Avatar here.
Sources:
New Yorker
Wiki
Related Stories:
20% of Avatar Work Still Incomplete